How about programming something different and very close to São Paulo for a walk with the family?
There's nothing better than planning a short, round trip, to do with your family without going too far from São Paulo. We have separated some unmissable itineraries and tours to leave the routine aside and enjoy new air in some places in SP.
Places to visit near Sao Paulo
Whether to enjoy a beach, be dazzled by beautiful landscapes, contemplate mountains, taste a good wine, walk in the park, meditate or venture into sports in the midst of nature, we have separated these tips for quick walks that can become a great gift for your family and yield unforgettable moments without going too far from home. Check out 10 places to visit near Sao Paulo and enjoy your family day off.
Embu das Artes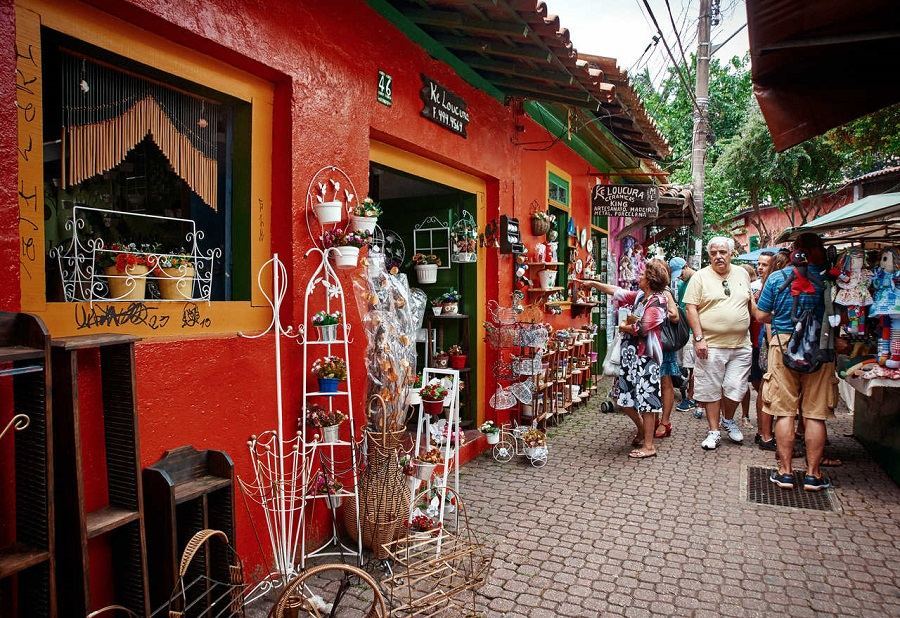 There are only 31 kilometers that separate the charming Embu from the Arts of São Paulo. Undoubtedly, the city is a destination that cannot be left out to celebrate special family occasions in a different and charming way. There are cobblestone streets, well treed, surrounded by nice buildings and a beautiful historic center that offers attractions such as the Jesuit Museum of Sacred Art, built in the late 17th century.
Very close to the historic center is a large green area, the Parque do Lago Francisco Rizzo. There is a lake with koi, ducks, geese and turtles, as well as a running track, playground, toy library and other attractions – the best part is that admission is free.
On weekends, the Arts and Crafts Fair brings together more than 800 exhibitors who offer a wide variety of products, such as jewelry, musical instruments, decorative pieces, porcelain, clothing and much more.
Holambra
Another city that deserves to be included in your family itinerary near SP is the charming Holambra. In Holambra, which is just 130 kilometers from São Paulo, you can be enchanted by sets of colorful houses that resemble the wooden buildings of Amsterdam.
The city is also home to the largest mill in Latin America, a tribute to traditional Dutch mills. It is possible to go up on a deck located at the top of the mill and have a privileged view of the city.
Known as the National Capital of Flowers, the city is responsible for 45% of flower production in the country, making it possible to visit some flowering fields and see up close how the plantations work (in addition, of course, to acquiring beautiful plants). Take the opportunity to also try several typical Dutch foods and sweets. All this close to São Paulo.
sprouts
Does your family like adventure tours? So the right place to enjoy a different tour is Brotas, known as the ecotourism capital of São Paulo. Approximately three hours away from the capital, the city offers a multitude of sports in nature, such as rafting, tree climbing, ATV, zip lines or trails that lead to beautiful waterfalls.
There are also several parks that offer day use with a fixed price, where you can enjoy several activities in a single day of fun and even have lunch on site. One option is the Hotel Fazenda Areia Que Canta, which houses the beautiful spring of the same name with crystal clear waters and a refreshing bath.
The Recanto das Cachoeiras park, in addition to various activities, offers trails on wooden platforms that lead to two great and huge waterfalls, Santo Antônio, with a 20-meter drop and Roseira, with 55 meters, in addition to a swimming pool with infinity edge and mountain views.
Eco Parque Cassorova, on the other hand, offers easy access, arriving at two beautiful waterfalls: the Quatis Waterfall, 46 meters high, and the Cassorova Waterfall, with an imposing 60 meters, in addition to exciting zip lines and various activities that provide that butterflies in the stomach. .
São Roque
Is your family looking for a place to taste good wine and be close to nature? Just 50 minutes from São Paulo is São Roque, a charming city that is home to the Wine Route. This is a route that brings together three roads and more than 30 establishments related to the drink, such as wineries, restaurants and wineries. Among the must-see stops is the Góes Winery, a space that offers its own wines, a restaurant and a guided tour to learn about the entire process of making the drink.
Quinta do Olivardo is another essential point on the route and has a rustic atmosphere that offers traditional Portuguese dishes, such as pastel de bacalhau, pastel de Belém, among other delicacies. The space also offers outdoor activities such as zip lines, horseback riding, pedal boats and much more.
Vila Don Pato is another unmissable place and, in addition to the great Portuguese cuisine, it also pays tribute to Ruas de Águeda, with several colorful umbrellas that make for great photos.
For those who want to have fun on a family outing, it is in São Roque that the Ski Mountain Park is located, a fun complex with several activities in the midst of a scenario of great nature and beautiful mountains. The ski and snowboard slopes are the only ones in South America in this format and have trained instructors who help children and adults to practice ice sports in a tropical climate.
Cotia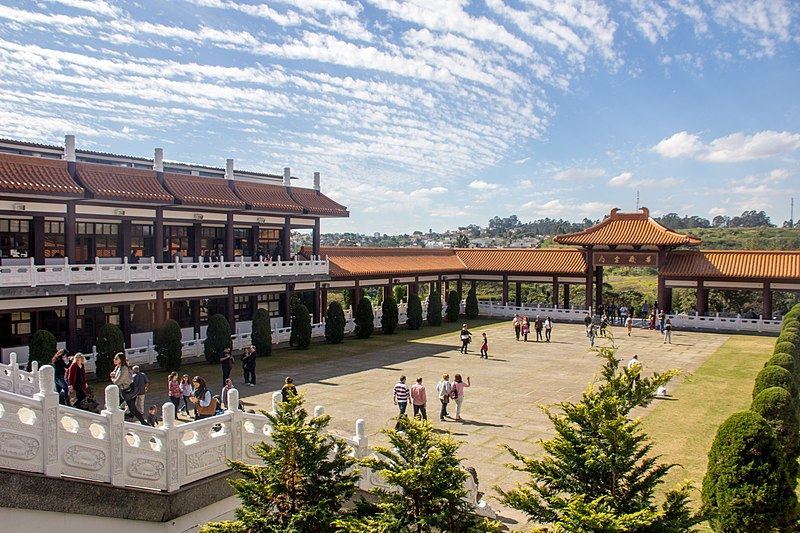 Does your family want a tour near São Paulo to relax amidst a place surrounded by nature, peace and quiet? In Cotia, less than an hour from São Paulo, is the largest Buddhist temple in Latin America, the Zu Lai. There are 10 thousand square meters of built area, with most of the materials imported from China. The temple has become a space of contemplation, peace and beauty not only for followers of the religion, but for all visitors and tourists who appreciate calm and serenity visiting a different place.
In addition to being very beautiful and interesting, access to the temple is free, a good option for those who want to save money on special occasions. Anyone who wants can schedule and participate in meditation classes that are also offered free of charge.
paranapiacaba
If your family is looking for different tours full of history, a trip back to Vila de Paranapiacaba, in Santo André, can be a great idea and a true return to the past. Just 50 km from the capital, it was built in 1865 to house engineers and workers from the British Railway company during the inauguration of the first railway in the state.
Located amidst the top of Serra do Mar, the village is framed by the beauties of the Nascentes de Paranapiacaba Municipal Natural Park, an area of 400 hectares that preserves an important area of Atlantic Forest with several ecological trails. Legend has it that it was in Paranapiacaba that the first soccer game in Brazil took place, brought by English immigrants.
saints
Contrary to what many think, Santos is not just about good beaches with good infrastructure. The city, which is just over an hour from São Paulo, is a great option for families who enjoy places full of history, culture and lots of coffee.
The Coffee Museum, for example, provides visitors with data and information about the history of the beverage in Brazil and around the world. Don't forget to take a cable car ride, a real trip into the past on a five-kilometer journey through the city center's tourist attractions, which brings together a series of buildings and monuments that witnessed various phases of Brazil's history.
For those who do not give up beautiful beaches and good kiosks, Praia do Gonzaga has one of the largest beach gardens in the world and has a bike path, many kiosks and all the necessary infrastructure to enjoy the sea and a charming sunset, with view of the vessels departing and arriving at the Port of Santos.
Guararema
Despite not being so well known, Guararema is just an hour from São Paulo. For those who want to spend little, the city is a great option for a trip close to the capital to take your family, as there are several free attractions or with more affordable prices.
The city has a charming historic center with several buildings from the 18th century, such as the Igreja Matriz de Guararema. If you like shopping, on weekends there is also a handicraft fair that offers regional products and souvenirs to take home.
A different tour option is the Maria Fumaça, which departs from the Central Station of Guararema, built in 1891, and goes to the Vila Luís Carlos station, in a total journey of almost seven kilometers through mountains and beautiful scenery. Children love it too!
atibaia
Need a place with fresh air, beautiful landscapes and lots of charm? A good option to celebrate special occasions or enjoy a break is to schedule a trip to Atibaia, which is very close to São Paulo. Edmundo Zanoni Municipal Park is located in an area of 40,000 square meters perfect for hiking, a picnic or for a pedal boat ride on the lake that adorns the place.
In Lago do Major, another interesting point of the city, it is possible to take a cable car to the highest point of the city in a route of 550 meters. To have one of the most incredible panoramic views of the interior of São Paulo, a tip is to go up to Pedra Grande, known for being the starting point for hang gliding and one of the city's postcards. It is worth seeing an incredible sunset at an altitude of 1450 meters.
guarujá
Do you want to enjoy a sunny day to enjoy a beach and various family attractions? Guarujá is a great option an hour and a half from São Paulo. There are more than 22 kilometers of beaches to enjoy, including Praia da Enseada, one of those offering the best structure, and Prainha Branca, with a rustic and unpretentious look, which is accessed by a trail.
A different tour to do in Guarujá is the schooner tour, which provides another view of the city. By means of the boat, it is possible to go through the Bertioga Channel and observe the ruins of the Ermida de Santo Antônio do Guaibê, built around 1560.
A different tour to do in Guarujá is to visit Acqua Mundo, the city's aquarium that brings together over 180 species of marine and freshwater animals, including turtles, fish, stingrays, sharks, penguins, among others. Another nice option is to enjoy one of the many viewpoints that provide a unique and panoramic view of the city in the midst of nature, such as Morro do Maluf and Mirante da Gávea.
Read too:
» Best destinations to celebrate Mother's Day
» 4 cultural tours to do in São Paulo
» This tiny cabin is one of the most booked homes on Airbnb
» The cheapest cities in South America to backpack in 2019
Subscribe to our channel:
---
---
Do you want to speak to the newsroom or report any errors found on this page? Send a message to
[email protected]