You can set up a home spa and enjoy moments of relaxation and self-care as if you were in a hotel spa. Want to know how? We will give you all the tips.
One of the highlights of traveling and staying in a hotel or resort that has a spa service is, without a doubt, being able to enjoy all the care offered in these spaces, isn't it? What if I told you that you could have a spa day at home, would you believe it?
That's right, you can ride one spa home and enjoy moments of relaxation and self-care as if you were in a hotel spa. Want to know how? In this post I will give you 10 tips that will allow you to live this experience. I'm sure you'll want to repeat it again and again from now on.
spa at home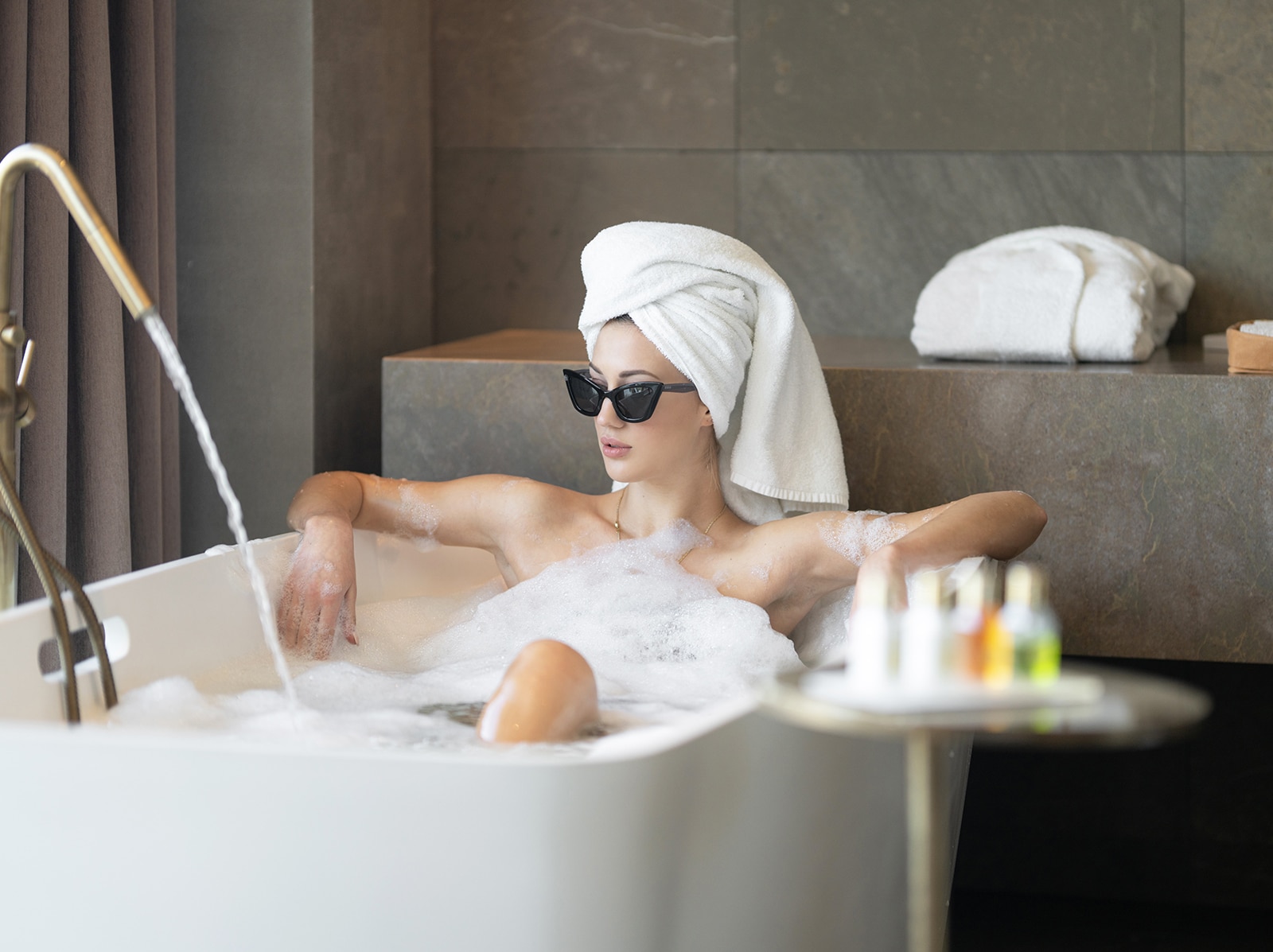 With these home spa tips, you will see that you don't have to travel far to take care of yourself and that, even with few resources and homemade materials, it is possible to create this environment of renewal of mind and body.
Choose a quiet location
The first step to making a perfect home spa is knowing how to choose the best environment in the house. It is true that several processes will have to be done in the bathroom, but you do not have to spend all day in it. Choose a corner of the house where you can be calm, comfortable and focused on yourself.
Invest in environment preparation
After choosing the best room in your home to set up your spa, start preparing it. This will make all the difference and help you get in the mood. Leave the environment with soft light or half-light. Light a scented candle, incense, or air freshener. Put on a quiet playlist to play, preferably one that has songs that help you relax.
get ready too
Put on a robe or comfortable clothes that make you feel comfortable. It could even be a sweatshirt or that loose shirt you wear to sleep. The important thing is that you feel good. If you want, have your favorite drink, be it a glass of wine, drink, juice or tea. And most importantly, forget about the outside world.
disconnect
Speaking of forgetting about the outside world, don't use your cell phone or access social media. It may not seem like it, but technology can often be harmful to your health – physical and mental. So, to make the most of your spa day at home, you will need to disconnect from the virtual world to focus only on you.
Take a relaxing bath
Nothing like a bath to relax us, right? So start your self-care with a bath, whether in a bathtub – if you have it at home – or in the shower. If you have a bathtub, bet on bath salts and bubbles and stay in it as long as you feel necessary. If not, allow yourself to feel the shower water falling over your body.
massage the whole body
Take advantage of the bath for a full massage as you wash. Use scented soaps, exfoliating creams and pay attention to every part of your body.
Moisturize your hair
Also while showering, use a hair mask to moisturize your hair. The tip is to wash your hair before the body and apply the mask. Leave it on while you bathe and, at the end, rinse with cold or lukewarm water.
take care of your face
After your shower, focus on caring for your face. Follow these three steps:
Clean your face with a soap specific to your skin type.
Use a cotton pad to apply a cleansing facial tonic.
Hydrate with your favorite cream.
You can also enhance the hydration of the face with the use of a face mask, either bought or made at home, with natural clays. And, when you remove it, massage your face with circular movements.
Try doing a self-massage
Take your favorite moisturizer and when you apply it on your body, take the opportunity to do a self-massage that, in addition to relaxing, helps to deflate.
Don't forget your feet
Just like the face, the feet also deserve special attention during your home spa. To take care of them, make a foot bath: in a basin, put warm water and a little of your favorite essential oil, soak your feet in it for half an hour, then dry them and apply a moisturizer.
Finally, you can make a meditation to end your spa day at home with a flourish. Even if you have never meditated, try sitting in an upright posture, closing your eyes and focusing on your breathing: inhale and exhale deeply several times until your chest feels light, calm.
Don't make any effort in the time you have left. Take the opportunity to relax even more, whether watching a light movie and eating your favorite dish or even going to bed early to finish recharging.
Bonus: Take this herbal bath at your home spa
You can enjoy a herbal bath even without having a bathtub at home. That's right. So, write this recipe down and try it on your spa day at home.
First, you will need to mix the following ingredients: a handful of rock salt, fennel, chamomile, lavender or lemon balm to taste and 10 drops of essential oil of a favorite herb.
If you have a bathtub in your house, just put the mixture in the water. If not, put the mixture on a piece of tulle or thin stockings. Tie it with a string or ribbon in the shower, as if it were a shower cap, and when the water falls, the herbs will provide a special relaxation.
Dica extra para a sua viagem
Para encontrar inúmeras opções de acomodação e book hotels e pousadas durante a viagem, utilizamos o Booking.com - disponível em milhares de destinos. Para economizar com voos, consultamos primeiro as passagens aéreas na MaxMilhas, - quase sempre encontramos os melhores preços tanto no Brasil quanto no exterior. As passagens podem ser emitidas mesmo para quem não tem milhas aéreas.
Outras dicas úteis
Encontre informações úteis sobre os best destinations do mundo, com guias de viagens especializados sobre diferentes places to visit in Brazil e no exterior. São milhares de travel tips com sugestões de onde ir na sua viagem, recomendação de hotels, notícias atualizadas e muito mais.
Precisa de um carro na sua viagem? Encontre
aluguel de carro na Rentcars
e cote modelos diferentes podendo ser parcelado em até 10x. Já para passeios e ingressos antecipados, fechamos tudo sempre pela
Get Your Guide
. 


Subscribe to our channel:
---
---
Do you want to speak to the newsroom or report any errors found on this page? Send a message to
[email protected]