The best Airbnb houses for rent in the countryside of SP! 
amazing tips from houses for rent on Airbnb near SP! We have selected cozy options that offer unique and super fun experiences!
Want to meet at 11 best Airbnb options in the interior of São Paulo? So read on to discover amazing rm lodgings across the state!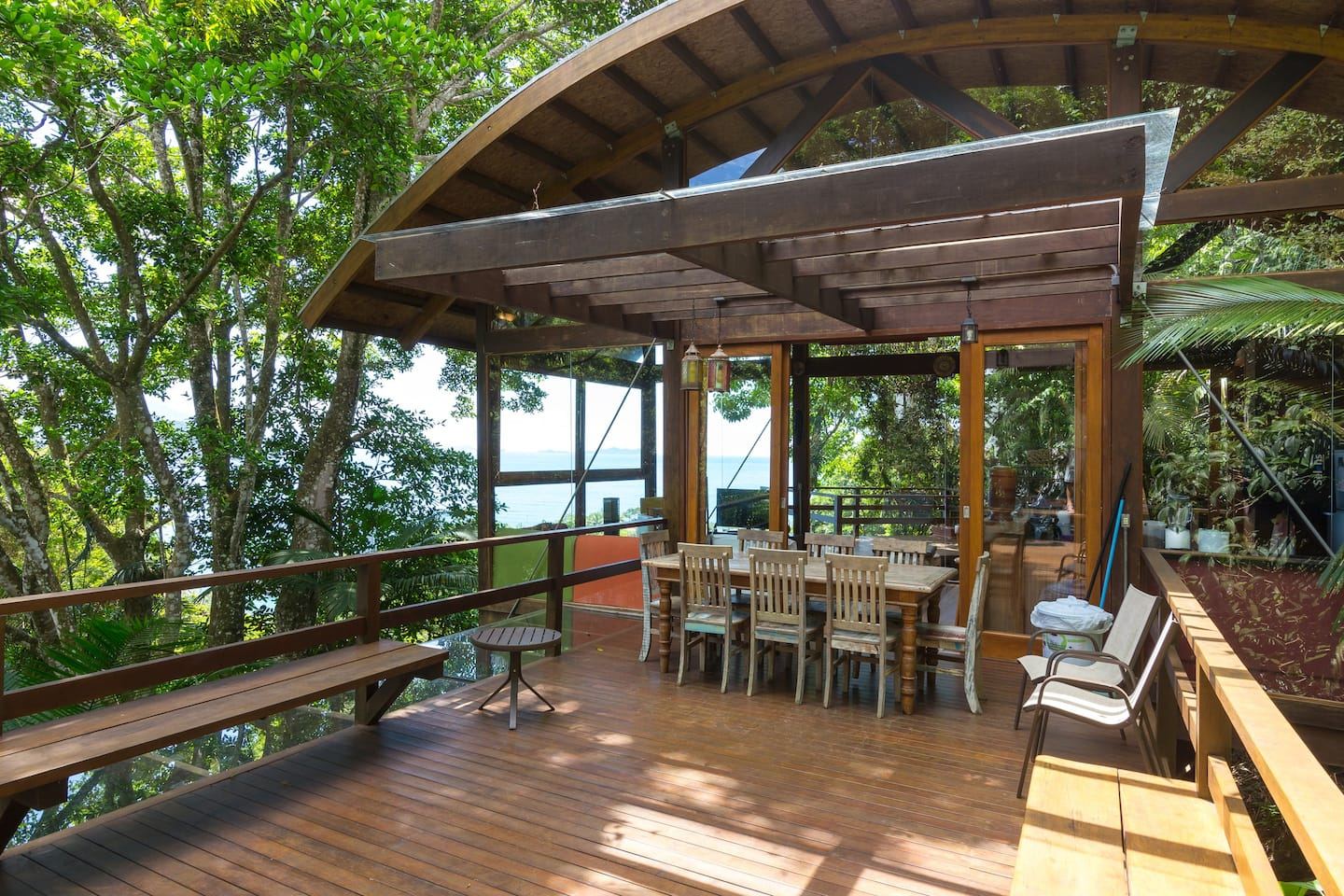 Located in front of the famous Praia do Félix, in ubatuba, this incredible house is surrounded by lush greenery of the Atlantic Forest, making it a true refuge for those who want to disconnect.
Daily Rate: R$ 1 300; sharing between 8 guests is R$ 162 per person.
The 1989 Vintage Outdoor Experience, in Campos dos Jodão, offers the experience of living in a super charming vintage motor home.
The trailer has a kitchen equipped with a fridge, stove, microwave, in addition to a bedroom, a bathroom with heated shower and a living room that can be transformed into another bedroom.
Daily rate: 160 reais per night for a couple.
Designed to disconnect from the city and connect with nature, it has a bedroom with a queen bed and a sofa bed in the living room for two couples.
Daily Rate: R$ 1 088; sharing between 4 guests is R$ 272 per person.
The catamaran receives up to 15 people at a time, on a deck with bathroom and shower, kitchen with fridge and barbecue.
The rent, however, is not for sleeping: the boat is available from 8 am to 7 pm to spend the day and enjoy the tranquility of the South Coast of São Paulo, between the Atlantic Forest and the sea of Cananéia.
Daily rate: R$ 1 600; sharing between 15 guests is R$ 106 per person.
House in concrete, stone and solid wood with three bedrooms in an award-winning architectural project on land revealing the 360 degrees of Serra da Mantiqueira. Waterfalls and rivers cut through the farm, which usually wakes up above the clouds, in São Francisco Xavier, on the border between São Paulo and Minas Gerais. The warm jacuzzi with a view will be a must during your stay.
Daily rate: R$ 1 871 divided between 6 guests is R$ 311 per person.
It's 45 square meters in a sustainable container perfect for a couple looking to connect with nature (but it accommodates up to four guests). The five-acre property is forested with trails that lead to a floating-deck pond. The refuge, which integrates wood, design and the presence of nature, was even on the cover of Casa Vogue.
Daily rate: R$ 1 500 divided between 4 guests is R$ 375 per person.
Fully integrated with nature, the sustainable house has two bedrooms and is located in a gated community with 24-hour security in Ubatuba.
The solar energy plates guarantee sustainable energy and the sound of the birds and the running water of the stream in the back guarantee the ambient sound.
Daily rate: R$ 658 divided between 4 guests is R$ 119 per person per day
Cozy house in Serra da Cantareira, in Residencial Parque Petrópolis, with easy access from the north of SP. Surrounded by a lot of green, the house has a covered deck with a green view with several environments.
Daily rate: R$ 150 divided between 2 guests is R$ 75 per person per day.
The glass house is located inside a private condominium in Praia do Félix, in Ubatuba, on concrete stilts and has a panoramic view of the region.
Daily rate: R$ 2 829 divided between 8 guests is R$ 353 per person per day.
Located in an environmental preservation area, this cozy chalet overlooks Praia do Cabelo Grande, in São Sebastião.
Daily rate: R$ 476 divided between 2 guests is R$ 238 per person per day.
The elegant house has an infinity pool overlooking a lake with a small beach ideal for children. The house also has 5 spacious and super comfortable suites.
Daily rate: R$ 5 900 divided between 16 guests is R$ 368 per person per day.
Read too:
» House inspired by Harry Potter sets can be rented on Airbnb
» Most desired home in the world by Airbnb guests is located in Brazil
» These are the most desired homes on Airbnb
» Airbnb: learn what it is, how it works and how to register on the platform
Dica extra para a sua viagem
Para encontrar inúmeras opções de acomodação e book hotels e pousadas durante a viagem, utilizamos o Booking.com - disponível em milhares de destinos. Para economizar com voos, consultamos primeiro as passagens aéreas na MaxMilhas, - quase sempre encontramos os melhores preços tanto no Brasil quanto no exterior. As passagens podem ser emitidas mesmo para quem não tem milhas aéreas.
Outras dicas úteis
Encontre informações úteis sobre os best destinations do mundo, com guias de viagens especializados sobre diferentes places to visit in Brazil e no exterior. São milhares de travel tips com sugestões de onde ir na sua viagem, recomendação de hotels, notícias atualizadas e muito mais.
Precisa de um carro na sua viagem? Encontre
aluguel de carro na Rentcars
e cote modelos diferentes podendo ser parcelado em até 10x. Já para passeios e ingressos antecipados, fechamos tudo sempre pela
Get Your Guide
. 


Subscribe to our channel:
---
---
Do you want to speak to the newsroom or report any errors found on this page? Send a message to
[email protected]