Check out a list of natural pools in São Paulo (SP) with crystal clear waters perfect for cooling off 
Enjoy nature and cool off in a natural swimming pool with cold waters seems a difficult task for those who live in Sao Paulo. Although many don't know it, the truth is that there are many perfect places for a good relaxing bath with clean and crystalline waters close to the capital.
Firstly, some of them are quite accessible and have an entire infrastructure to make the visitor very comfortable. Others are not so structured, but make up for it with a unique look next to nature.   
Check out 13 places with natural pools that are close to Sao Paulo and you should know:
Sand That Sings, Sprouts
located within the Farm hotel Sand That Sings is the gigantic spring of crystalline waters and of a greenish tone that bears the same name. Composed not only of very white sand, but also of tiny quartz grains, elements that produce a sound similar to that of a cuíca.
The tour to the spring is free for Hotel Fazenda guests, but visitors can also discover the beauties of the place by purchasing a separate ticket. In addition, the tour also includes a visit to the anteater river, famous for its small falls and natural bathing basins.
Thermal baths, Águas de Lindóia
The biggest attraction of Lindoia waters are undoubtedly its therapeutic waters and thermal baths. In this way, the Aguas de Lindoia Spa It is the ideal place to enjoy more than 30 immersion baths, massages and mineral water pools. Perfect for relaxing and still taking care of your health.
Santo Antonio Waterfall, Brotas
THE Santo Antonio waterfall is inside the complete Nook of the Waterfalls, in sprouts. Formed by the Roseira stream, it has a drop of 20 meters with crystal clear water, as well as a very inviting natural pool for swimming.
The space has a day-use system, where it is possible to access other waterfallsiras, such as the one in Roseira, which is 55 meters high. The trails are self-guided and easily accessible, even for people with reduced mobility. 
Renata Waterfall, Ubatuba
In front of Maranduba beach there is access through the neighborhood Countryside of Quina, where can you get to the Renata's Waterfall. The route carried out is carried out by a trail to the waterfall.
Surrounded by native forest and with a beautiful swimming hole, the Renata's Waterfall is one of natural pools near São Paulo must-sees to visit. It has a rock from which some more courageous visitors dare to jump. In other words, slippery rocks serve as a kind of toboggan run where some people slide with buoys.
My God Waterfall, Eldorado
Elected one of the most beautiful waterfalls in the state of Sao Paulo, the waterfall fall of my god It has a drop of 53 meters. Its origin comes from a spring that crosses the devil's cave, in the region of petar. In addition, its waters are cold, clean and ideal for a good dip in the midst of stunning scenery.
The most common access to the imposing waterfall takes about an hour, but there is a longer one that passes through another 11 falls and takes a five-hour walk.
Pedreira Waterfall, Lavrinhas
Another waterfall in the municipality of lavrinhas, a Quarry Waterfall It is located in an access on the SP-58 highway. However, it is necessary to follow a short trail, approximately 600m, but with slightly winding stretches. In fact, making access difficult for people with reduced mobility.
The waterfall, with a water tone that changes between blue and green, is surprisingly beautiful. Attention is needed, as there are deeper areas with current that require extra care.
Lageado Waterfall, Santo Antônio do Pinhal
THE Lageado Waterfall It is approximately 7 km from the center of Santo Antonio do Pinhal and has a beautiful waterfall in the form of a veil, as well as a great well for swimming.
The structure is great, with picnic tables, lawn and a very wooded area around it, in addition to a snack bar and restrooms. There is a maintenance fee to access the waterfall.
Big waterfall, Lagoinha
---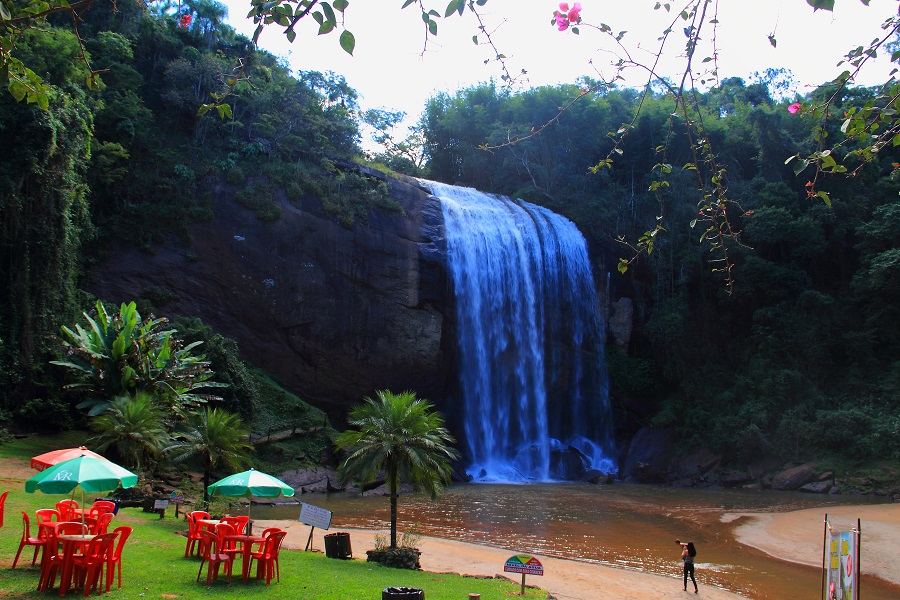 Photo: Marinelson Almeida/ Wikimedia Commons
THE big waterfall, located in Municipality of Lagoinha, is on private property, but tourist access is allowed. Formed by the waters of the Pinhal River, it has a drop of 39 meters, in addition to a large area that forms a natural pool. In short, this whole look is surrounded by a dense native forest, making the atmosphere more peaceful and pleasant.
Santo Isidro Waterfall, São José do Barreiro
THE Santo Isidro waterfall is the closest to the entrance of the Serra da Bocaina National Park. It's only 1.5 km along a well-marked trail to the fall. With a height of 50 meters and a spacious well, it is great for enjoying the well-preserved nature and relaxing.
Prumirim Waterfall, Ubatuba
Located 19 km from the center of ubatuba, a Prumirim Waterfall is formed in the middle of the native forest and has three main wells for visitation. In one of them it is possible to enjoy a natural hydromassage. In others, you can swim and cool off in the icy waters and enjoy the surrounding nature.
Blue Well, Lavrinhas
THE Blue Well, located in the municipality of lavrinhas, is undoubtedly one of the natural pools close to Sao Paulo that you must know. As it is on private property, it is recommended to receive a permit to access the trail. The route is not so well marked, but due to the large number of visitors, it is easy to identify.
the walk toThe trail lasts approximately one hour and there are sections that require care, such as crossing the Jacu River which, in rainy periods, gets crowded and makes access difficult. The view compensates with a well of crystalline and bluish waters.
Cassorova Waterfall, Brotas
The beautiful waterfall is located in the Cassorova Ecopark which also offers other attractions and activities, such as trails, tree climbing and zip lines with an excellent infrastructure.
To access the waterfall it is necessary to walk along a self-guided trail of approximately 200 meters. The path is very easy and safe and in less than 5 minutes you reach the imposing 60-meter high fall, with a water well perfect for cooling off.
Grande Waterfall, Cardoso Island
The access to the big waterfall part of Cardoso Island, extreme south of the coast of São Paulo, is carried out aboard a speedboat. Then it's another 20 minutes on foot along a trail that ends at the waterfall.
The route must be carried out with the accompaniment of accredited local monitors. THE big waterfall It has a drop of 11 meters and a swimming hole surrounded by nature, sambaquis and ruins of old buildings.  
Read too:
» See 25 of the best beaches to visit in São Paulo
» 9 cheap trips from Sao Paulo
» Wanderlust: some people are born with the travel gene
» 30 colonial cities in Brazil you need to know
Subscribe to our channel:
---
---
Do you want to speak to the newsroom or report any errors found on this page? Send a message to
[email protected]