We separated 18 amazing places in São Paulo that few people know. How many of them have you visited in the capital?  
Sao Paulo offers several cities within one. And, as we have the feeling that we already know everything about the metropolis, there is always much more to discover. Among skyscrapers, avenues and frantic passers-by, real surprises are hidden, those very cool places which, who knows why, few people visit. 
Thus, there are parks, hanging gardens, vegetable gardens, fairs, bars and events that happen before our eyes and that need to be discovered. So, to help you explore every special corner that this giant city hides, we've separated 18 amazing places in São Paulo that few people know about.
It's worth sending to friends and booking that next tour! 
Amazing places in São Paulo that few people know about
Cultural Center Garden
Peace, quiet, beach chairs, mats and lots of green. Speaking like that, it doesn't even seem like we're talking about a place in São Paulo, right? But this space exists and is located at the top of the cultural Center.
The hanging garden offers an area where people can enjoy the sun, read a good book or just rest from the hustle and bustle of everyday life admiring the panoramic view of the city. In addition, it is worth exploring the other spaces of the center, which offers exhibitions, cinema, workshops and much more. 
Address: Rua Vergueiro, 1000 – Paraíso
Ema Klabin Foundation
If you love art and architecture, you should plan a visit to Ema Klabin Foundation, a house-museum that houses more than 1500 pieces, including paintings by artists such as Frans Post and Marc Chagall.
The space also features a collection of objects gathered over the years by Ema Gordon Klabin. However, the visit is also worth admiring the beautiful mansion from the 50s where the museum is installed, with a beautiful garden designed by Burle Marx. This is another one of the amazing places in São Paulo that few people know about.
Address: R. Portugal, 43 – Jardim Europa
circus memory center
Few know, but the Olido gallery, in the center of the capital, has a place totally dedicated to preserving the memory of the circus. Playful, colorful and full of objects and models that portray the trajectory of the circus in Brazil and in the world, the Circus Memory Center is an unmissable tour in São Paulo.
In addition, there are also panels and videos that explain acrobatics, illusionism and all the performances used to delight the public, as well as showing the history of artists who left an incredible trajectory. 
Address: Av. São João, 473 – Historic Center of São Paulo, São Paulo
Glass House
With a huge glass facade suspended by pillars, the "Glass House" is, in itself, an incredible tour for anyone who admires architecture. However, there is still more: designed by the architect Lina Bo Bardi in 1951, the space houses her personal collection, bringing together furniture, works of art, objects and photographs.
Thus, located in the Morumbi neighborhood, the place also offers an incredible garden with more than 7 thousand meters of Atlantic Forest species, all in the heart of the capital.
Address: Rua General Almerio de Moura, 200
Vila Maria Zelia
Imagine an old village full of colorful houses that look like they came out of a movie. THE Vila Maria Zelia, in the Belenzinho neighborhood, was created in 1917 to house the more than a thousand employees of the Cia. National Jute Fabrics.
Despite the closed factory, currently the site still preserves several old spaces, such as a church, court, squares, warehouses, among others. Therefore, the working village is worth visiting, but it is important to remember that it is not a tourist attraction. Thus, it is necessary to respect the space and privacy of the people who still live there. 
Address: Rua José Alves de Oliveira, 256 – Belém
toy gallery
Known as the "toy gallery", the Itapetininga Gallery, in the center of the capital, is a true paradise for the nostalgic – and it is also among the incredible places in São Paulo that few people know about. That's because several stores offer a wide variety of antique toys and collector's items, including some rarities that have delighted generations.
To give you an idea, the space has the largest collection of old toys in the country. That's why it's worth spending some time looking at shop windows and letting go of childhood memories. 
Address: Rua Barão de Itapetininga, 267 – República
Garden of Light
Who passes through the center of Sao Paulo You can't miss Jardim da Luz, a space opened in 1825 that used to be a botanical garden.
Currently, it offers reflecting pools, a walking trail, sculptures, a cave with a waterfall and even an underground aquarium, with several species of fish to see. Also, a curious fact: it is the oldest public park in the capital. 
Address: Praça da Luz, no number, Bom Retiro
Swimming pool at Sesc 24 de Maio
In the heart of the capital, the Sesc May 24 offers several cool spaces that few people know in São Paulo. For starters, a huge semi-Olympic swimming pool with a capacity for 400 people occupies the top of the building, offering a panoramic view of the city. Although only members can enter the water, it is possible to admire the scenery. 
In addition to the swimming pool, a climbing wall is installed on the eighth floor of the building. Finally, whoever wants to can also have a coffee in front of the many blue water mirrors that contrast with the gray tone of the metropolis. 
Address: R. May 24, 109 - Republic
Tattoo Museum
São Paulo holds some surprising places, and one of them is dedicated to those who love tattoos. Installed inside an old building in the center of the capital, the Museum Tattoo Brazil or tattoo museum, recreates the history and evolution of this art that permanently colors people's bodies.
Thus, in the space, opened in 2004, a collection of more than 500 items takes the visitor to a universe full of curiosities. Without a doubt, this is one of the amazing places in São Paulo that few people know about.
Address: R. 24th of May, 225 – 1st floor – República
Bar dos Arcos
Did you know that there is a secret bar in the basement of the Municipal Theater? THE Bar dos Arcos opened in 2018 and occupies the so-called "hall of arches", a space that housed a structure with more than 100 years that functioned as a crossing point for the building's ventilation ducts.
Currently restored, the bar has kept the charming original masonry structure, which made it very charming. Therefore, it is another unmissable tour in São Paulo.  
Address: Praça Ramos De Azevedo, s/n – República
City Hall hanging garden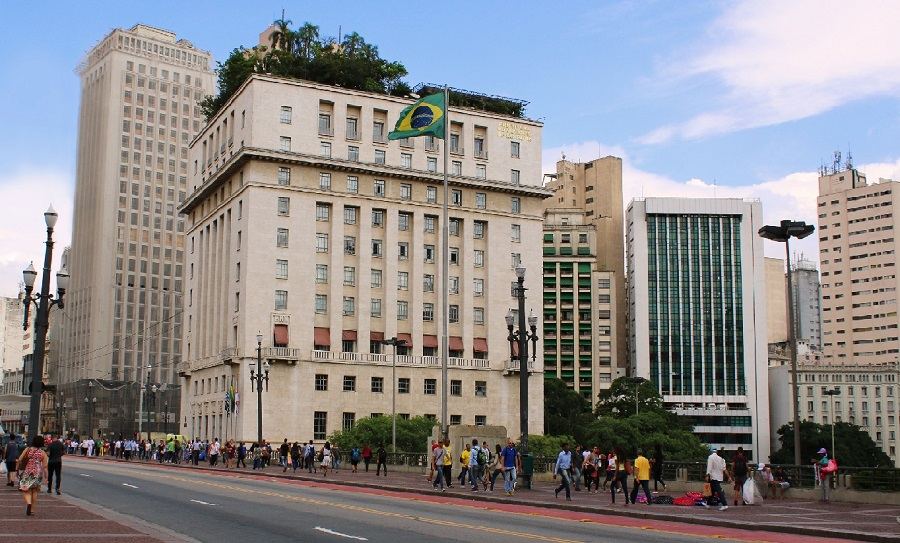 How about visiting a huge hanging garden on the roof of an old building in the heart of the capital? This true "urban jungle" is at the top of the Matarazzo Building, which now houses the seat of the municipal government.
On a free tour offered by SPturis, it is possible to visit some floors of the old building, built in 1939, and go up to its roof. From above, in addition to several incredible panoramic points overlooking iconic places in the city, there are more than 400 species of plants, including fruit trees, coffee trees and even a redwood. 
Address: Viaduto do Chá, 15 – Historic Center of São Paulo
urban coffee plantation
Can you imagine that very close to Avenida Paulista there is a… coffee plantation?  The space, maintained by Biological Institute, is considered the largest urban coffee plantation in the country, with 10 thousand square meters and 1,600 coffee trees. 
Thus, every year, between May and June, the Institute holds the 'Sabor da Colheita' event, where all people are invited to participate in the grain harvest. Therefore, for those who love the drink, it is an unmissable tour, but it must be booked in advance by calling (11) 5087-1704. 
Address: Av. Counselor Rodrigues Alves, 1252 – Vila Mariana
Manequinho Lopes Nursery
Even within quite popular locations there are some surprises. It is the case of Manequinho Lopes Nursery, which is located in the heart of Ibirapuera Park, but is among the incredible places in São Paulo that few people know about.
Thus, the space brings together about 200 species of plants that are used to afforest public areas of the city. To get to know the place, it is necessary to schedule a monitored visit by phone (11) 5572-1004. 
Address: Av. Centennial Room, 1288 – Ibirapuera
Crypt of the Sé Cathedral
Surely you have already visited the Sé Cathedral, in Sao Paulo. But did you know that, seven meters from the altar floor, there is a hidden crypt? Built in the Gothic style, the crypt holds some tombs of personalities who were part of the city's history, such as that of chief Tibiriçá, an indigenous leader from the beginnings of the Portuguese colonization of Brazil. 
Address: Praça da Sé, 399 – Sé
Kantuta Fair
Everyone knows that Liberdade is a little piece of Japan in São Paulo. But few know that, in the Pari neighborhood, it is also possible to travel to Bolivia. Every Sunday the region receives the Kantuta Fair, a space that offers more than 90 stalls with various items of Bolivian culture.
In addition, there you will find a good variety of handcrafted items produced by immigrants and you can also taste different typical dishes of the country. A tip: don't forget to try the famous "inca kola", a very common soft drink in Bolivia and Peru. 
Address: Kantuta Square (corner with Rua das Olarias and Rua Araguaia)
Samba da Treze
Want to enjoy the bohemian side of São Paulo? Samba da Treze, also known as "Samba do Bixiga", takes place every Friday at 20:00 on Rua 13 de Maio.
Thus, in the open air and with an unpretentious and cheerful atmosphere, the group Madeira da Lei plays hits ranging from Jorge Aragão to Demônios da Garoa, getting people to dance. In addition, it is worth taking the opportunity to stroll through the streets of the neighborhood and visit the various traditional restaurants and Italian canteens, as well as the Church of Achiropita.
Address:  Rua Treze de Maio, 507 – Bixiga
Perus-Pirapora Railway
Inaugurated in 1914, the Perus-Pirapora Railway was built to connect the neighborhood of Perus, in São Paulo, to the city of Pirapora do Bom Jesus. Recently restored, the space now houses the Eco-Museum, which has an incredible collection of old locomotives.
It is possible to reach the museum by traversing the old railroad tracks on foot, by bicycle or by means of a train ride, for a route of about 5 kilometers. However, for more information about the tours, it is necessary to access the Facebook page from the project.   
Address: Private Mining Road Pedrix, S/N 
vegetable garden on the roof
Who would have thought that in full coverage of the Shopping Eldorado, one of the most famous in the capital, is there an organic garden? The food that is left over in the food court every day is separated and used as fertilizer for the plantation, which occupies an area of 5,000 m² on the roof of the mall.
With the project, 30% of the waste produced at the mall can be reused, turning into various vegetables and distributed to employees of the space. However, anyone who wants to visit the garden needs to schedule a visit by calling (11) 2197-7815. 
Address: Av. Rebouças, 3970 – Pine trees
Read too:
» Drive-in cinemas in São Paulo: discover four options to enjoy
» Take a virtual tour to the top of Farol Santander in São Paulo
» 7 unusual destinations to visit in Brazil after the pandemic
» 9 sailboats for you to sleep on paradisiacal beaches in Brazil
Dica extra para reservar hotéis
Para encontrar inúmeras opções de acomodação e reservar hotéis e pousadas com os melhores preços, utilizamos o Booking.com - disponível em milhares de destinos.
Passagens aéreas mais baratas
Para economizar com voos, consultamos primeiro as passagens aéreas na MaxMilhas, - quase sempre encontramos os melhores preços tanto no Brasil quanto no exterior. As passagens podem ser emitidas mesmo para quem não tem milhas aéreas.
Outras dicas úteis
Encontre informações úteis sobre os best destinations do mundo, com guias de viagens especializados sobre diferentes places to visit in Brazil e no exterior. São milhares de travel tips com sugestões de onde ir na sua viagem, recomendação de hotels, notícias atualizadas e muito mais.
Precisa de um carro na sua viagem? Encontre
aluguel de carro na Rentcars
e cote modelos diferentes podendo ser parcelado em até 10x. Já para passeios e ingressos antecipados, fechamos tudo sempre pela
Get Your Guide
.
Deseja falar com a redação, promover a sua marca ou relatar algum erro encontrado nesta página? Envie uma mensagem para
[email protected]
Subscribe to our channel:
---
---