The tomb was found south of Cairo, in the necropolis of Saqqara, and its painting is largely intact.
A 4,000-year-old Egyptian tomb was recently discovered in Egypt. In addition to the incalculable historical value, something even more caught the attention of researchers: his painting is practically intact, as if it had been made recently.
The tomb, which was found south of the Cairo, in the Saqqara necropolis, it is L-shaped and includes a small corridor that leads to the antechamber. The photos released by the archeologists reveal the vivid tone of the extremely well-preserved colors.
relationship with royalty 
---
According to Mohamed Mujahid, who led the excavation team, the tomb belonged to a nobleman known as Khuwy, from the Egyptian Fifth Dynasty, which took place from the 25th to 24th century BC. The entrance tunnel, which is a feature of the pyramids, and the chamber with several colorful relief paintings indicate an association with royalty.
Everything suggests that Khumy would have some relationship with the pharaoh Djedkare Isesi, who reigned at the time and whose pyramid is very close to the place of discovery. Inside the tomb, in addition to Khumy's mummy, canopies were also found, vessels used to store the embalmed viscera during the mummification process.
tourism incentive
---
With the intention of revitalizing tourism in the country, the opening ceremony of the archaeological site was held by the Minister of Antiquities, Khaled al-Enanii, and was attended by ambassadors from other countries and even actors, such as the well-known Egyptian actress Yosra .
In addition to encouraging tourism, the discovery will also be of utmost importance to gather more information about the Djedkare Isesi dynasty.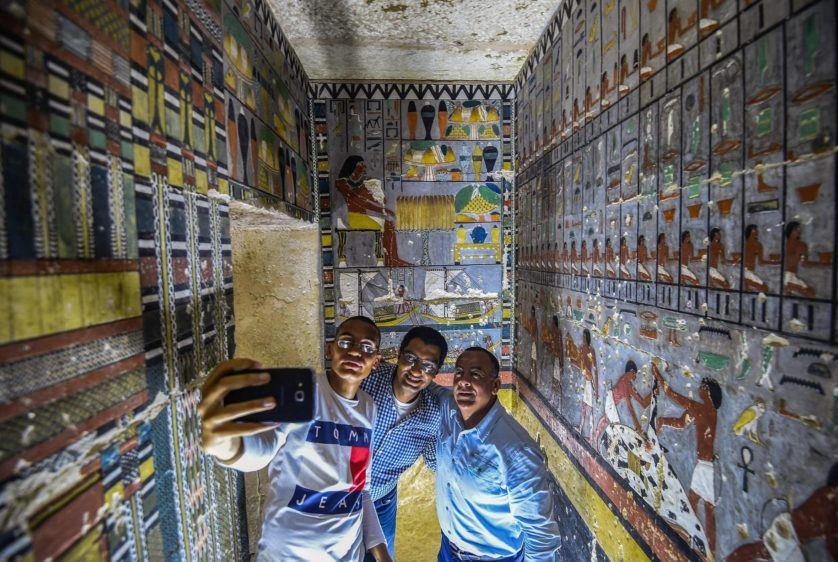 » Egypt: Mayfair Cruises Offers Nile River Cruises
» Cairo tourism tips
» Israel: discover the exotic beauty of the Holy Land
» 3500-year-old tombs open for visitation in Egypt
Dica extra para reservar hotéis
Para encontrar inúmeras opções de acomodação e reservar hotéis e pousadas com os melhores preços, utilizamos o Booking.com - disponível em milhares de destinos.
Passagens aéreas mais baratas
Para economizar com voos, consultamos primeiro as passagens aéreas na MaxMilhas, - quase sempre encontramos os melhores preços tanto no Brasil quanto no exterior. As passagens podem ser emitidas mesmo para quem não tem milhas aéreas.
Outras dicas úteis
Encontre informações úteis sobre os best destinations do mundo, com guias de viagens especializados sobre diferentes places to visit in Brazil e no exterior. São milhares de travel tips com sugestões de onde ir na sua viagem, recomendação de hotels, notícias atualizadas e muito mais.
Precisa de um carro na sua viagem? Encontre
aluguel de carro na Rentcars
e cote modelos diferentes podendo ser parcelado em até 10x. Já para passeios e ingressos antecipados, fechamos tudo sempre pela
Get Your Guide
.
Deseja falar com a redação, promover a sua marca ou relatar algum erro encontrado nesta página? Envie uma mensagem para
[email protected]
Subscribe to our channel:
---
---