They venture through Brazil and the world aboard charming VW Beetles! Check out 5 beetle profiles on Instagram
Traveling by Fusca? Many turn up their noses, others call it madness, but the truth is that many Brazilians are getting to know Brazil and the world aboard the most charismatic car there is.
The hours of travel may seem uncomfortable for some, but they are still going strong, ensuring adventures at every twisty turn and discovering incredible places.
For those who travel by Beetle, what matters is simplicity and adventure. There's no rush when it comes to discovering bucolic views and stunning landscapes that are hidden there.
meet 5 Instagram profiles that travel by Beetle, travel hundreds of kilometers, cross borders and show that, when traveling, anything is possible.
Go Beetle!
The pair of students from Rio de Janeiro Mateus Galvão and Igor Ferreira left Rio de Janeiro on September 10, 2017 aboard a 67 green VW Beetle. The objective? Arrive in Alaska.
Nearly 23,000 kilometers have been covered between Brazil, Argentina, Chile, Peru, Ecuador, Nicaragua, Colombia, Costa Rica, Honduras, Guatemala, Mexico and the USA. In all, they have passed through thirteen countries. Currently the two are in Canada and very close to reaching their destination. Every adventure of the duo is registered in the Instagram.
Shurastey or Shuraigow?
Jesse Koz and his cute dog Shurastey left Balneário Camboriú in May 2017 aboard a Beetle 76 nicknamed Dodongo. In forty days they arrived in Ushuaia in the middle of winter and continued traveling through Latin America. Since then, they have traveled more than thirty thousand kilometers between Brazil, Chile, Uruguay and Argentina.
The two have many stories to tell, both of the problems they faced and of amazing places and people they met during their trip.  
Back in Brazil, they are currently making the necessary repairs to the Beetle to embark on the next adventure. This time, the destination will be Alaska.
https://www.instagram.com/shurastey_
From Milleduke Around
Aboard a Beetle 61, Keila Lopes and Egon Kozyreff have many stories to tell. In addition to several trips aboard the beetle, in 2015 the couple faced their biggest adventure, going from Sorocaba, in the interior of São Paulo, to Parnamirim, in the metropolitan region of Natal.
After mechanical adjustments, the Beetle won a Turiscar Jóia 1976 trailer and went to explore the south of the country, arriving in Pomerode, Santa Catarina. This year, the duo intends to venture through several Latin American countries and warm up the engines for the most audacious project of all, which will begin in 2019: reaching West Virginia, in the United States, and following Route 66 to Las Vegas.
www.instagram.com/demilledukeporai/
Fuscamérica Expedition
The Fuscamérica Expedition project is an initiative by photographer Nauro Júnior, who has traveled seven South American countries aboard a 68 Beetle. The next trip has already begun and will be in Russia, during the World Cup. 
The "Segundinho", nickname of the Beetle, boarded a ship on April 19 in the Port of Rio Grande, heading to Saint Petersburg, Russia. The expedition starts on the 13th of June, heading to the headquarters of the Football World Cup. The objective of the project is to follow the backstage of the games during the World Cup, traveling around 20 thousand kilometers along Russian roads.
www.instagram.com/expedicaofuscamerica/
If my Volkswagen Beetle Falacre
The Beetle 76, nicknamed Pangaré, has already passed eight Brazilian states and traveled more than 10 thousand kilometers across the country. Leaving São Paulo, he went up to Bahia, in Chapada da Diamantina. From there, he went to Goiás in Chapada dos Veadeiros, passing through Tocantins and ending the trip in Brasília. At the end of last year, Pangaré also traveled the old gold path on Estrada Real, visiting the historic cities of Minas Gerais.
The beetle makes regular trips to several Brazilian cities, but the main objective of the adventure is to leave São Paulo towards Acre. In this daring expedition, the idea is to record Brazilian culture through the roads, cities and paths.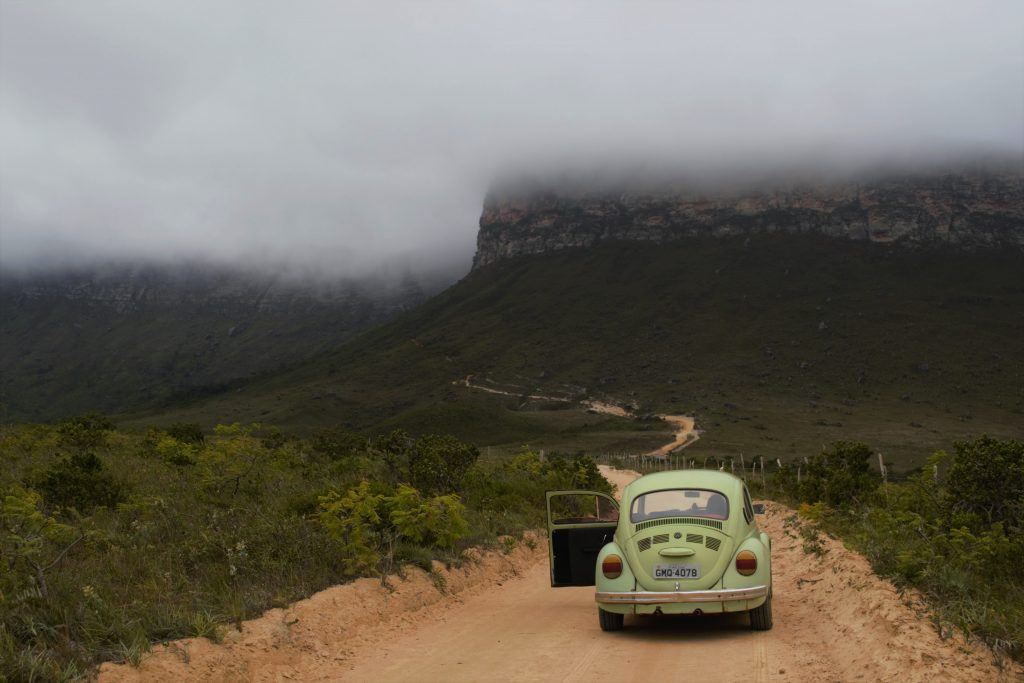 www.instagram.com/semeufuscafalacre
Tips for traveling with a VW
Always do a review
Make sure everything is in perfect condition before starting a trip. Beetles need constant maintenance to stay firm and strong on the roads. Oil, belt, bearings, brakes, lights and tires must be up to date.
Start with short trips
No going out there exploring the world at once. Start small, with short trips, to get to know the car better and see how it reacts to different situations. Experience is everything!
stop a little
Try to make stops of at least ten minutes every 200 kilometers. They help in that gas to continue the route.
Light foot on the accelerator
Take it easy on speed. In addition to giving the engine a break, you save fuel.
Bring an extra tool kit
A tool kit can be very useful for small repairs. Carrying a few extra parts that can be easily replaced, such as the fuel pump, especially if you're going to be tackling remote regions, is essential.
tank always full
Refuel whenever possible. In addition to the Beetles' engines being more sensitive to bad fuel, the tanks are smaller and, on a long trip, it's hard to know where to find the next gas station. It's half a tank, fill it up!
Avoid traveling at night
Beetle headlights are less efficient, therefore, visibility is lost. A good alternative is the installation of headlights, but be careful not to harm other drivers.
» 79-year-old Argentina sells everything to travel around South America
» A road trip from Brazil to the United States
» The most charming roads to travel in Brazil
» 4 ride-hailing apps that will help you travel cheaper
Dica extra para reservar hotéis
Para encontrar inúmeras opções de acomodação e reservar hotéis e pousadas com os melhores preços, utilizamos o Booking.com - disponível em milhares de destinos.
Passagens aéreas mais baratas
Para economizar com voos, consultamos primeiro as passagens aéreas na MaxMilhas, - quase sempre encontramos os melhores preços tanto no Brasil quanto no exterior. As passagens podem ser emitidas mesmo para quem não tem milhas aéreas.
Outras dicas úteis
Encontre informações úteis sobre os best destinations do mundo, com guias de viagens especializados sobre diferentes places to visit in Brazil e no exterior. São milhares de travel tips com sugestões de onde ir na sua viagem, recomendação de hotels, notícias atualizadas e muito mais.
Precisa de um carro na sua viagem? Encontre
aluguel de carro na Rentcars
e cote modelos diferentes podendo ser parcelado em até 10x. Já para passeios e ingressos antecipados, fechamos tudo sempre pela
Get Your Guide
.
Deseja falar com a redação, promover a sua marca ou relatar algum erro encontrado nesta página? Envie uma mensagem para
[email protected]
Subscribe to our channel:
---
---