Discover the best of Turkey in this list of 6 amazing tours to do in Istanbul
Istanbul it is a journey through time, between bazaars, historic places and incredible mosques that make the city the link between the West and the East, between the past and the present. The art of commerce gives the place an extra attraction for those who also seek to experience a millenary experience that has become a tradition.
Former Byzantium and Constantinople, the city is located between the Bosphorus Strait and the Sea of Marmara (which separate Asia from Europe), it became the capital of the Eastern Roman Empire and the Ottoman Empire until 1923 and is the most important and popular of Turkey and one of the oldest in the world.
Although many think that Istanbul it is the capital of the country (its capital is Ankara), it is its main commercial, industrial, economic and cultural center, and some historical parts have been declared World Heritage Sites by Unesco, such as archaeological sites and mosques.
With excellent tourist infrastructure, most attractions and services are also available in English, but for those who appreciate the comfort or ease of getting around during the trip, the guide in turkey is a company specialized in welcoming Brazilians to the city, offering exclusive tours, accommodation and transport services.
Amazing tours in Istanbul
Hagia S Museum

The

phia
---
One of the most visited museums in the world for its art and architecture, it is one of the most famous landmarks in Istanbul. The building was originally a church, then an orthodox basilica, and later it was converted into a mosque and, finally, into a museum in 1935. One of the recommended stops for anyone wanting to take one of the amazing tours in Istanbul.
Since 360 AD, the construction started by the Romans has gone through different architectural styles and was the largest cathedral in the world in the Byzantine period, drawing attention to its thunderous central dome decorated with verses from the Quran, the four minarets, the marble columns and the mosaics and frescoes on the walls.
Ayasofya Square, Sultanahmet, Istanbul 34122, Turkey
Site.
Basilica Cistern
---
Built in the Byzantine Empire in 532 AD, the now-defunct cistern is one of the oldest and most impressive constructions in Istanbul. The underground water reservoir has a gigantic structure, with impressive 336 columns of different types of marble and 9m high with tops interconnected by arches; access is via a ladder with 52 steps.
Two Medusa heads used as column supports are noteworthy, true works of art from the Roman period whose origins are unknown. It came to serve the emperor's palace and the city, but with the Ottoman domination it remained unused and unknown for a long time, being discovered in the 16th century by a Dutch researcher and presented to the Western world.
Alemdar Mahallesi, Yerebatan Caddesi, No:1/3, Istanbul 34410, Turkey
Site.
topkapi palace
---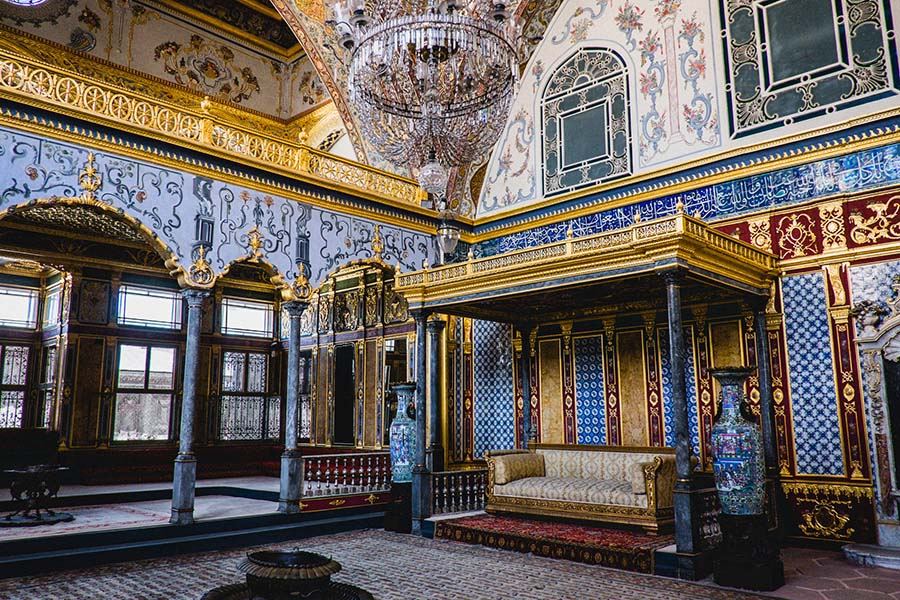 Photo: Vincent Murcianopalace took 25 years to build (1478-1453), shortly after the conquest of Constantinople, and occupies an area of 700,000 m2. It was the residence of the sultans for 4 centuries, the administrative, educational and artistic center until the Ottoman domination and transformed into a museum when the Republic of Turkey, in 1924. It has 4 patios with passages between them and different uses, gardens around the various rooms that display relics and a harem.
Cankurtaran Mahallesi, Topkapi Palace Museum, 34122 Fatih/İstanbul, Turkey | Gulhane Park, near Sultanahmet Square, Istanbul, Turkey
Site.
Blue Mosque
---
THE Blue Mosque, one of the main tourist destinations and Turkish postcard, is known for its architectural beauty, formed by blue tiles that surround the walls of its interior.
Built between 1609 and 1616, it houses the tomb of its founder, Sultan Ahmed I, a study house and a hospice. Without a doubt, one of the amazing tours to do in Istanbul. A mandatory stop on your itinerary through the Turkish metropolis.
Sultanahmet | Sultanahmet Mah, Istanbul 34122, Turkey
Grand Bazaar
---
Negotiating a purchase is a Turkish tradition, and the best place to exercise it is the Grand Bazaar, one of the oldest covered markets in the world, a gigantic place where you can get lost. With more than 60 streets and 5,000 stores, there are services such as cafes and currency exchange bureaus and there you can find everything: tapestry, jewelry, handicrafts, clothing, perfume, souvenirs, crockery, etc.
It was built in 1461 as a warehouse and grew over time, having undergone fire and reconstruction. Like almost everything else in the city, the architecture of the place is a walk in its own right, with decorations on the ceiling that do not go unnoticed even in the midst of so much merchandise.
Beyazit Mh. | Fatih, Istanbul 34126, Turkey
Spice Bazaar
---
Also known as the Egyptian Bazaar, unlike the Grand Bazaar, it is small, but has a wide variety of products, mainly condiments, spices, dried fruits, seasonings, Turkish sweets and delicious gummies (Turkish delight) and is the center of the city's spice trade. The building is part of the New Mosque and its construction dates from 1660.
Remember that a Muslim city has customs that are usually strange to tourists of other religions, but that must be respected. Always try to find out more about the culture of the places and the politics of the tourist spots in order to make the most of what they offer.
Ragip Gumuspala Cad. Eminonu/Cagaloglu, Fatih, Istanbul, Turkey
+ Info
guide in turkey
Guide in Portuguese in Turkey
Tel: +90 536 273 59 61
https://guianaturquia.com/
» Istanbul: 2 or 3 days city tour
» Exploring Turkey, discover what to see and do in Europe's most exotic country
» Discover the luxurious cave hotels in Turkey
» What to see in Cappadocia: top tourist attractions
» 5 beaches for you to enjoy in Turkey
Dica extra para reservar hotéis
Para encontrar inúmeras opções de acomodação e reservar hotéis e pousadas com os melhores preços, utilizamos o Booking.com - disponível em milhares de destinos.
Passagens aéreas mais baratas
Para economizar com voos, consultamos primeiro as passagens aéreas na MaxMilhas, - quase sempre encontramos os melhores preços tanto no Brasil quanto no exterior. As passagens podem ser emitidas mesmo para quem não tem milhas aéreas.
Outras dicas úteis
Encontre informações úteis sobre os best destinations do mundo, com guias de viagens especializados sobre diferentes places to visit in Brazil e no exterior. São milhares de travel tips com sugestões de onde ir na sua viagem, recomendação de hotels, notícias atualizadas e muito mais.
Precisa de um carro na sua viagem? Encontre
aluguel de carro na Rentcars
e cote modelos diferentes podendo ser parcelado em até 10x. Já para passeios e ingressos antecipados, fechamos tudo sempre pela
Get Your Guide
.
Deseja falar com a redação, promover a sua marca ou relatar algum erro encontrado nesta página? Envie uma mensagem para
[email protected]
Subscribe to our channel:
---
---