Beaches in Búzios: with more than twenty beach options, divided between the North, South and East of the peninsula, the most famous city in the Lagos Region is surrounded by natural attractions
The peninsula of Armação de Búzios, on the northern coast of the state of Rio de Janeiro, is home to great beaches suitable for tourists of all tastes and ages.
There are numerous options for all profiles: beaches with calm waters, great for families with children, beaches with waves perfect for surfing and others located in a less crowded region of the coast, for those looking for privacy and peace.
Below we list the best beaches for you to enjoy the best of the region:
Armacao dos Búzios
The beach is on the main street in the center of Búzios and is where some of the best restaurants, bars and inns are located.
Enjoy the attraction and take a relaxing walk on its charming shore, framed by beautiful islands, charming colonial mansions and colorful traditional fishing boats. Some famous attractions in the city, such as the statue of fishermen and actress Brigitte Bardot, can also be visited from Praia da Armação.
Praia dos Ossos
The small Praia dos Ossos is a great option for families with children. Its calm, calm and crystalline waters form a true natural pool.
The beach can be accessed from the beginning of Praia da Armação, in a narrow cobblestone street, which leads towards a small viewpoint next to the Church of Sant'Ana, or through the main avenue of the city that passes through the entire peninsula.
Joao Fernandes beach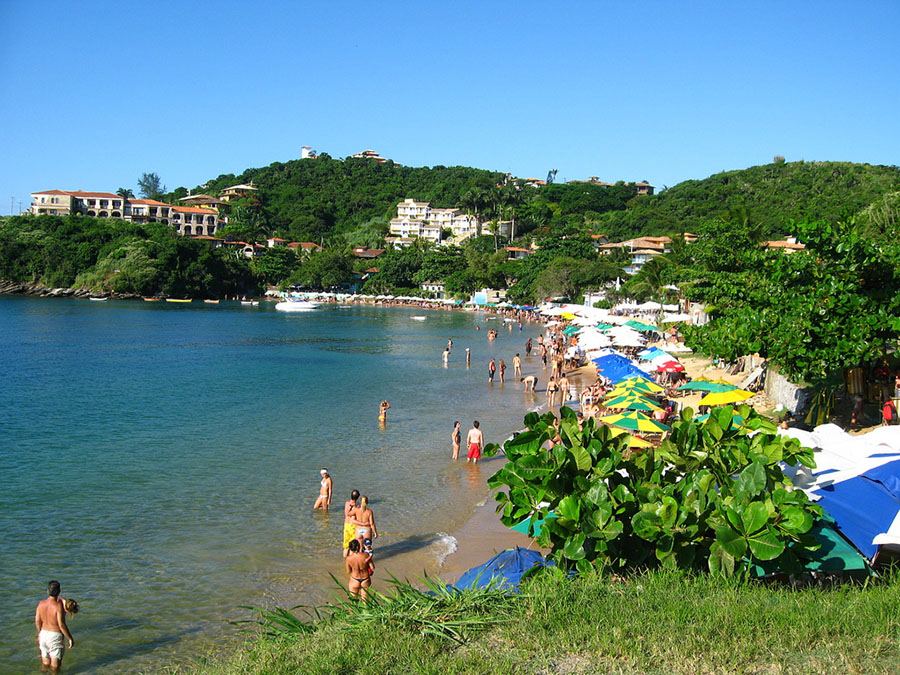 Photo: via FLickr – dipez
The most popular beach in Búzios appears on most tourist boards in the city. Surrounded by several resorts, hotels and inns, the Joao Fernandes beach It has an excellent structure with a large number of restaurants and kiosks prepared to serve visitors passing through the attraction.
Geriba beach
Considered the best beach with ideal waves for water sports such as surfing and kitesurfing, Praia de Geribá is a meeting point for young people and groups of friends. The attraction is one of the first to be seen when arriving in Búzios and is located in a more residential area of the city, with several vacation homes and fewer accommodation options.
Ferradura Beach
The beach takes its name because it has the same shape as a horseshoe when viewed from above. With icy and calm waters, Praia da Ferradura is one of the most visited in Búzios and provides access to other attractions in the city such as Praia da Foca and the Mirante da Praia do Forno.
Ferradurinha Beach
Praia da Ferradurinha is practically a very reduced version of the one mentioned above because it also looks like a Ferradura. But unlike Ferradura, this attraction offers less infrastructure because it is in a more remote location and with reduced access.
Sorrel and Sorrel
Both beaches are accessed by an easy access wooden staircase. The beaches are on the calmer side of the coast of Búzios and are also very suitable for families with children and the elderly. With a few meters of sand strip to Azeda beach it has few bars and some street vendors that offer snacks, drinks, chairs, umbrellas. Praia de Azedinha is divided by a small trail that borders some rocks at the end of the first attraction.
Praia Brava
Little frequented due to strong waves, the beach still retains its wild beauty with little infrastructure. The attraction is ideal to spend the day practicing sports such as surfing, racquetball or fishing on the cliffs that surround the attraction.
Forno Beach
Praia do Forno has an extremely calm coastline with transparent waters. The big star of the place is the pink sand, which gives a totally unique charm to the beach.
Bull's eye
The beach is dedicated to the naturist public and has a very narrow strip of sand. The only way to reach the place is by taking a trail that starts at the right corner of Praia Brava.
Turtle Beach
The beach is always very popular, it has a great infrastructure of restaurants, calm sea and extensive sand strip that goes to other beaches. Recommended for SUP, kayaking and even snorkeling, the beach is especially popular at dusk, when the sun sets over the sea.
Praia da Foca
This is one of the most isolated points of the peninsula, the small beach is located in the narrow passage between two rock walls that form several natural pools at low tide times.
Manguinhos Beach
Manguinhos is home to one of the best restaurant complexes in the city, Porto da Barra. Enjoy the tranquility of the place and take a walk along the beach to Praia Rosa which is next door where there are some inns that offer accommodation by the sea. This is also one of the favorite spots for tourists to admire the sunset.
Tucuns beach
Away from the center of Búzios, the extensive Praia de Tucuns is approximately 2.5 km long, perfect for practicing sports such as walking, running, racquetball, among others.
» Places to visit in Buzios
» Beach guide in Buzios
» Weekend itinerary in Buzios
» Hotels and B&Bs to stay in Buzios
Dica extra para reservar hotéis
Para encontrar inúmeras opções de acomodação e reservar hotéis e pousadas com os melhores preços, utilizamos o Booking.com - disponível em milhares de destinos.
Passagens aéreas mais baratas
Para economizar com voos, consultamos primeiro as passagens aéreas na MaxMilhas, - quase sempre encontramos os melhores preços tanto no Brasil quanto no exterior. As passagens podem ser emitidas mesmo para quem não tem milhas aéreas.
Outras dicas úteis
Encontre informações úteis sobre os best destinations do mundo, com guias de viagens especializados sobre diferentes places to visit in Brazil e no exterior. São milhares de travel tips com sugestões de onde ir na sua viagem, recomendação de hotels, notícias atualizadas e muito mais.
Precisa de um carro na sua viagem? Encontre
aluguel de carro na Rentcars
e cote modelos diferentes podendo ser parcelado em até 10x. Já para passeios e ingressos antecipados, fechamos tudo sempre pela
Get Your Guide
.
Deseja falar com a redação, promover a sua marca ou relatar algum erro encontrado nesta página? Envie uma mensagem para
[email protected]
Subscribe to our channel:
---
---