Website digitally recreated iconic monuments of Rome at the time they were built and compared them to current photos
Pomegranate It is a true open-air museum: there are several buildings and monuments that refer to a legacy of extreme importance for the history of humanity. It is impossible to stand in front of some of its most iconic structures and not imagine what they would have looked like at the time they were built.
Despite being well preserved, most of them inevitably suffered from the actions of time and man. With that in mind, the website Bored Panda gathered some digitally created images that show how some places were in the time of the emperors and how they are today.
See below:
Navona Square
---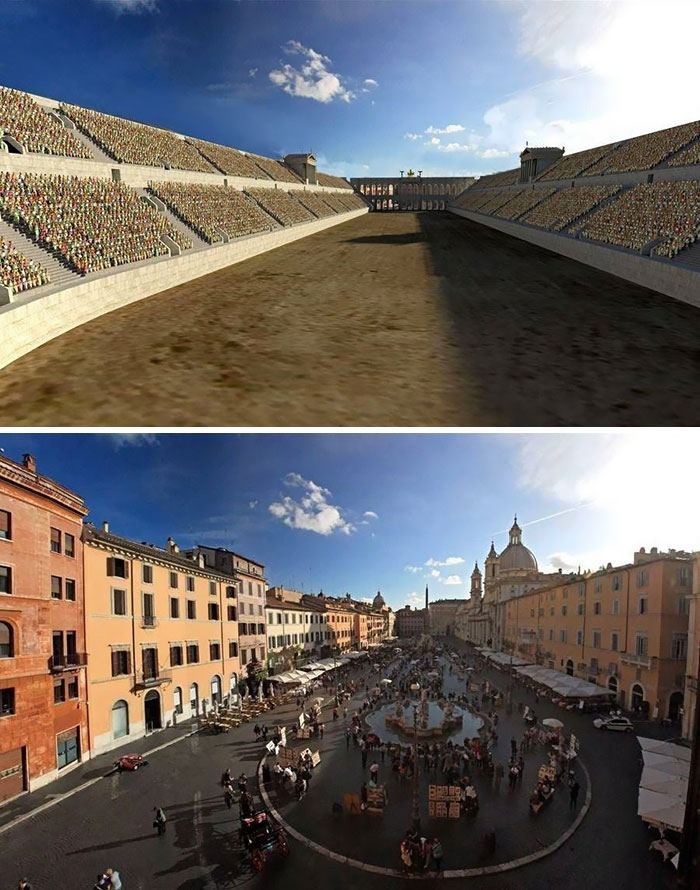 Piazza Navona is one of the most important in Rome and currently occupies the site of the Dominican Stadium, built in 80 AD by Emperor Titus. Several Greek sports competitions took place there and its grandstand had the capacity to hold up to 30,000 spectators.
Navona began to become a square in the last years of the 15th century. Currently, it is a very pleasant place, with shops, restaurants and lively and recurring performances by street artists. It also maintains three iconic and beautifully preserved fountains: Fontana del Moro, Fontana del Nettuno and Fontana dei Quattro Fiumi.
Coliseum
---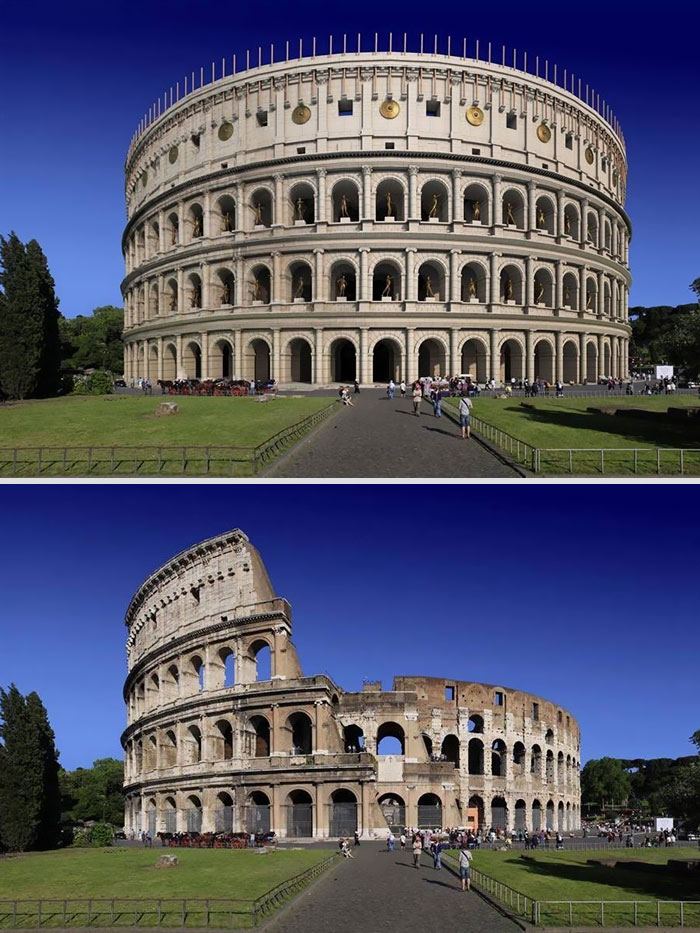 The massive building that is currently one of the main Roman symbols, the Colosseum was built in 80 AD. The giant arena was the scene of great combats between gladiators, animals and many other battles, and could hold up to 80,000 spectators.
Despite centuries of neglect, the iconic building of over 2000 years old is considered one of the 7 Wonders of the Modern World and receives thousands of tourists every year, making it one of the most popular attractions in Rome.
Castel Sant'Angelo
---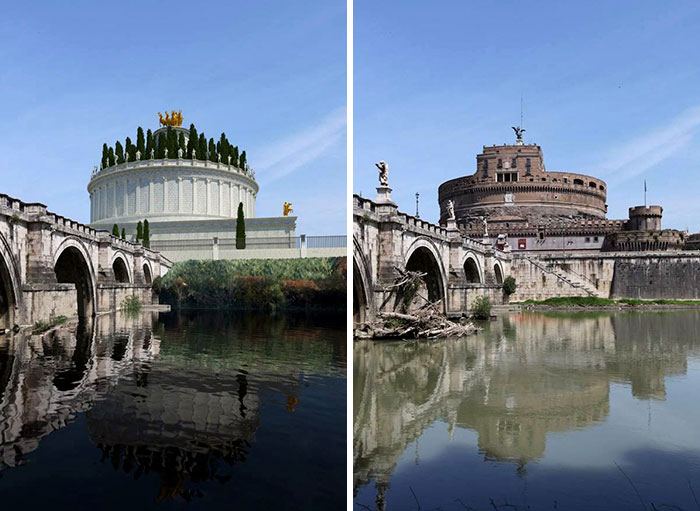 Very close to the Vatican is Castel Sant'Angelo, built by Emperor Hadrian between 135 and 139 AD on the banks of the River Tiber. Initially, the emperor's intention was to transform the building into a mausoleum for his family, but shortly afterwards the space was used as a military building and later as a fortress for the popes.
Currently, the castle structure has become a museum open to the public, with well-preserved elements from the Renaissance period and some military artifacts. At the top there is a viewpoint with a terrace from where you can get a beautiful view of the city.
Roman Forum and Tabulary
---
The Roman Forum was the center of power in the city, where political, economic and religious issues of the time were dealt with. The space is huge and, among important buildings that have had enormous weight in history, is the Tabularium, built in 78 BC. The structure housed the offices of several municipal authorities and, despite the age, is partially preserved.
Whether in the past or the present, these images only prove that Pomegranate It really is an amazing and unique city in the world, isn't it?
» Rome night city tour
» Tours to do on a connection in Rome
» Tips on renting a car in Italy prices and red tape
» See the 12 most beautiful cities to visit in Italy
Dica extra para reservar hotéis
Para encontrar inúmeras opções de acomodação e reservar hotéis e pousadas com os melhores preços, utilizamos o Booking.com - disponível em milhares de destinos.
Passagens aéreas mais baratas
Para economizar com voos, consultamos primeiro as passagens aéreas na MaxMilhas, - quase sempre encontramos os melhores preços tanto no Brasil quanto no exterior. As passagens podem ser emitidas mesmo para quem não tem milhas aéreas.
Outras dicas úteis
Encontre informações úteis sobre os best destinations do mundo, com guias de viagens especializados sobre diferentes places to visit in Brazil e no exterior. São milhares de travel tips com sugestões de onde ir na sua viagem, recomendação de hotels, notícias atualizadas e muito mais.
Precisa de um carro na sua viagem? Encontre
aluguel de carro na Rentcars
e cote modelos diferentes podendo ser parcelado em até 10x. Já para passeios e ingressos antecipados, fechamos tudo sempre pela
Get Your Guide
.
Deseja falar com a redação, promover a sua marca ou relatar algum erro encontrado nesta página? Envie uma mensagem para
[email protected]
Subscribe to our channel:
---
---