Check out the 18 best pubs in Dublin and find out where to enjoy the lively Irish nightlife. Traditional and lively pub tips you need to know
Visit Dublin and not visit a pub it's like going to Rome and not seeing the Colosseum. The city is famous for having hundreds of mega cozy bars that offer drinks and typical dishes from the region. Ireland. 
You iconic pubs in the Irish capital are located in the neighborhood and tourist region of Temple Bar, there you will find all kinds of bars, from the oldest and most traditional ones with live folk music performances, to the more modern pubs that, at dusk, act as true nightclubs. 
Other regions full of pubs in Dublin are the lively neighborhoods of St Stephen's Green, Rathmines, Portobelo and the city's Shopping Centre.
If you're going to Ireland and want to take a tour of Dublin's best pubs, check out this list of the city's funniest bars.
Dublin's best pubs
Lincoln's Inn 
Very close to Trinity College, Lincoln's Inn is one of traditional pubs in Dublin that offers a menu with several options of meals and beers, in cozy spaces with ambient music. 
In the morning, the restaurant serves the traditional full Irish breakfast: herb sausage, eggs, crispy bacon, black pudding, portobello mushroom, grilled tomato, beans and toasted bread. At lunch and dinner, the house offers meat and snacks options, which can be accompanied with juices, drinks and beers.
Temple Bar
The city's famous postcard, the Temple Bar is considered one of the Dublin's oldest pubs and has been in operation for centuries. 
Temple Bar has the Irish soul: beers, folk music, typical food and interaction with local people (and many tourists). Considered one of the liveliest pubs in Dublin, Temple Bar has live music every day from 2pm and only ends when the bar closes. The bar also has the largest collection of whiskeys in Ireland.
Oliver St. John Gogarty's
Another famous Dublin pub, Gogarty's is located in the heart of Dublin's cultural hub, in the Temple Bar area. The house serves the best of traditional Irish food and its bar is livened up by typical music every day of the week. 
The pub is housed in one of the most iconic buildings in Temple Bar, and has won several important gastronomic awards in the country. 
The Barge
Located in front of the Grand Canal, The Barge Gastro Bar has two floors and offers several beer labels served in pints, as well as great options for dishes and snacks. The traditionally Irish decor makes the space even more comfortable and attractive.
The pub is popular with young people and families, making it a great choice for a pub in Dublin for those staying in the Ranelagh area.
Arthur's
Arthur's is located on the corner of Thomas Street and Thomas Court and offers lively nights to the sound of jazz and blues. The bar consists of a floor dedicated to the consumption of dishes and drinks and another for live concerts, which usually only take place at night.
P.Mac's
Looking for a place to chat with friends in a cozy and lively place? P'Macs is on the corner of Digges Lane and Stephen Street Lower, has a friendly atmosphere and offers some of Dublin's best craft beers. The house also has a menu with snacks and typical dishes.
Address: 30 Stephen Street Lower



hairy lemon
Hairy Lemon works like a gastro pub and honestly has one of the coolest bar decorations in town. With a young and innovative spirit, the bar attracts fun people looking for a friendly place to hang out. 
As you might expect, Hairy Lemon has an extensive list of beer labels and typical Irish food.
fibers
With 5 different environments, Fibbers is certainly one of Dublin's most popular pubs. The bar has a space dedicated to concerts with a rock band, an open area with several tables spread out in a pleasant atmosphere, one for snooker, an area for food and another with a dance floor.
Napper Tandy's
With wooden furniture and rooms lit by low lights, candles and fireplaces, Napper Tandy's is one of Dublin's most traditional pubs, placed on in the Stephen Green region. 
Formed by different environments, the house works as a bar and restaurant, presenting a vast menu of typical foods, beer and drink labels.
The Bankers
The Bankers is among the favorite bars of Irish women who enjoy the city's lively nightlife. On the corner of Trinity Street and Dame Lane, the site has been in operation for over 100 years and is housed in a building that used to house a bank. 
If you are looking for a place to taste the famous Irish whiskey, this is the right place! The Bankers has an exclusive drink menu, with more than 70 options!
The Church
As its name implies, The Church is housed in an old church at the junction of Mary Street and Jervis Street, in Dublin 1. The Pub maintains the atmosphere with religious decoration, such as confessionals, organs and stained glass windows. 
Another curiosity is that some important people are buried in the walls of the bar. If you're looking for a different pub in Dublin, The Church is a great spot.
The Porterhouse
A great place to drink a cold beer accompanied by traditional Irish music, The Porterhouse has been operating since 1996 and produces its own beer line.
Mother Reilly's
Mother Reilly's award-winning bar and restaurant is located in the heart of Dublin city's suburbs, in the Rathmines district. Mother Reilly Bar and Restaurant is known for its warm welcome, great food and drink and a great atmosphere.
Popular with the city's young people, the bar is a meeting point for friends looking for great beers and a cozy atmosphere to watch a football match, or rugby, the country's traditional sport.
Address: Upper Rathmines Rd, Rathmines, Rathmines, Dublin 6
Café en Seine
Perfect for couples looking for a romantic spot in the city, Café en Seine is considered one of the most beautiful and sophisticated pubs in Dublin, due to its decoration with a Paris belle époque air. In addition to the bar and restaurant, Café en Seine also has its own balainha with a dance floor.
The Brazen Head
Ireland's oldest and most traditional pub is in fact one of the best pubs in Dublin. Brazen Head opened in 1198 and was frequented by famous writer James Joyce. With vintage decor and a great selection of craft beers, this is a great spot to enjoy live music in Dublin.
The Palace Bar
Known as a meeting place for the country's best writers for generations, the Palace Bar is one of Dublin's most beloved original Victorian pubs.
The pub is housed in an 1823 mansion with high ceilings and narrow rooms, a cozy setting that looks like something out of a movie. The decor is made with period furniture and its walls are lined with bottles of whiskey's, wines and beers.
Address: 21 Fleet St, Temple Bar, Dublin 2
token
Located in the neighborhood of Smithfield, Token offers an experience unlike any other pub in Dublin: the bar is fully decorated with arcades and pinballs and offers a menu with board games that have been successful for its customers.
In addition to providing drinks and video games, Token has some of the best bar fare in Dublin.
Address: 72-74 Queen Street, Smithfield, Dublin 7
The Ginger Man
Across the street from Trinity College, The Ginger Man pub has a lively and popular atmosphere due to its reasonable proximity to the university campus.
The pub also serves lunch and dinner, and has a varied menu, with hamburgers, Irish stew and the traditional Guinness pie.
Address: 39-40 Fenian St, Dublin 2
Silver Penny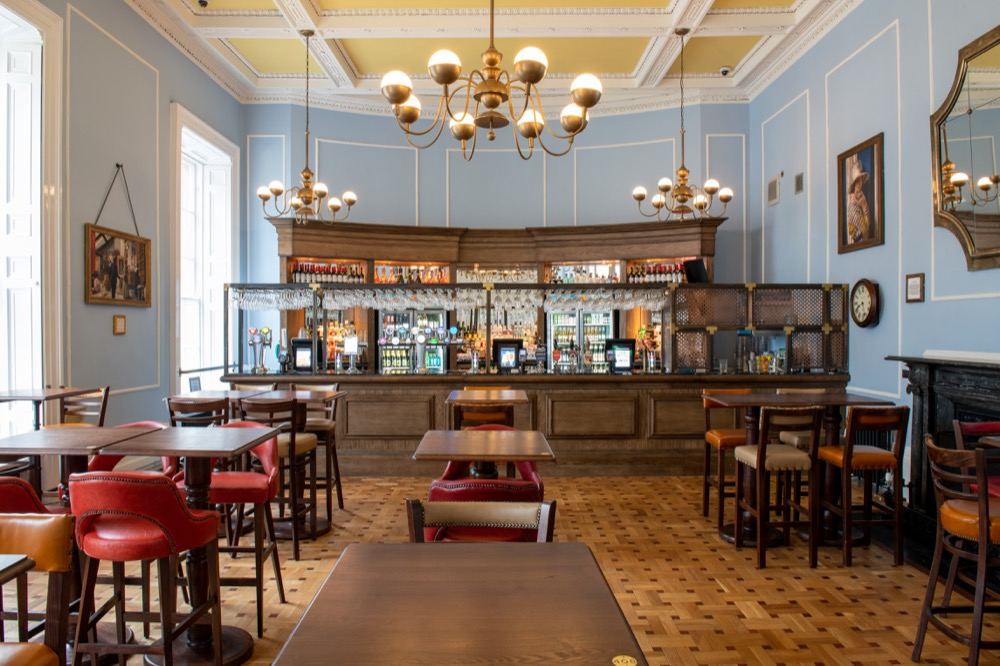 With a relaxed and cozy atmosphere, Silver Penny is a pub restaurant very different from the famous traditional pubs that we usually see on the streets of Dublin. The place does not have the charming facade decorated with flowers and beer barrels like the others in the city, but it is still a good choice for those looking for a comfortable, economical and lively place to socialize. 
Silver Penny offers great value for money for pints, and is popular with young people looking for a cool, fun place to hang out after work. 
Address: 12A Abbey Street Lower, North City, Dublin 1
Read too:
Dica extra para reservar hotéis
Para encontrar inúmeras opções de acomodação e reservar hotéis e pousadas com os melhores preços, utilizamos o Booking.com - disponível em milhares de destinos.
Passagens aéreas mais baratas
Para economizar com voos, consultamos primeiro as passagens aéreas na MaxMilhas, - quase sempre encontramos os melhores preços tanto no Brasil quanto no exterior. As passagens podem ser emitidas mesmo para quem não tem milhas aéreas.
Outras dicas úteis
Encontre informações úteis sobre os best destinations do mundo, com guias de viagens especializados sobre diferentes places to visit in Brazil e no exterior. São milhares de travel tips com sugestões de onde ir na sua viagem, recomendação de hotels, notícias atualizadas e muito mais.
Precisa de um carro na sua viagem? Encontre
aluguel de carro na Rentcars
e cote modelos diferentes podendo ser parcelado em até 10x. Já para passeios e ingressos antecipados, fechamos tudo sempre pela
Get Your Guide
.
Deseja falar com a redação, promover a sua marca ou relatar algum erro encontrado nesta página? Envie uma mensagem para
[email protected]
Subscribe to our channel:
---
---