I never imagined that a quick tourist visit to the Museo Casa Natal de Cervantes could change my life so much. The experience was immersive, not only in Cervantes' life, but in mine as well, because I met a person who helped me understand Don Quixote's dreams and how it could reflect in our own actions. "Tell me what you dream of, and I will tell you who you are". This person told me that the windmills in Don Quixote's stories were real and we all struggle daily with these terrible giants. It was a harsh reality, as I realized that I had been getting beaten up for a long time, as my giants got bigger and bigger, incredibly at the same speed that my fear was also growing.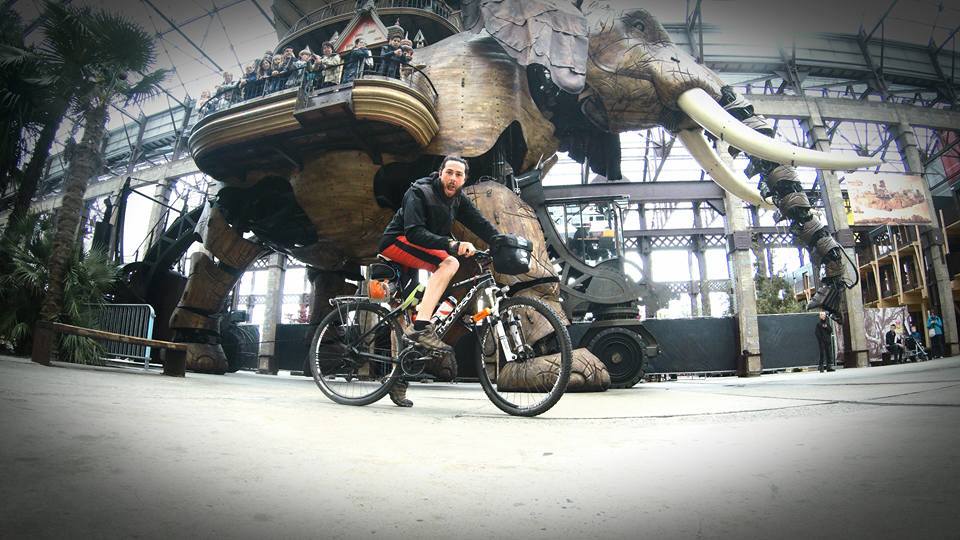 After the museum, we went out and spent the night talking about the future and he told me about his cycling adventures in Europe, which had been going back three months, I was curious and surprised how he had managed to do all that, for me it was difficult to take a week on vacation!
My friend, almost a Don Quixote, almost a knight, left the next morning, saying that he couldn't stay longer, as he had already planned to go to the next city and stay with people he had met along the way and on the internet. "Living this way has its benefits and sacrifices, however, sacrifices exist in every life, but sometimes the benefits are not enough to hold us back. I traded comfort for the unknown." he said, before leaving.
A desire grew inside me, to no longer be like Sancho Panza, as I am (was) and many of us still are – a figure that represents the standards of society and how everything should be the way it already is without even having space left. for our wishes! Nowadays, with the ease we have to live wherever we want, to seek what we dream of, or just go... for no reason, to find a way (if life needs one).
This is Lucas, who traded his horse for a bicycle and below, a brief summary of what he has been through in 3 months of travel and 5300km horseback riding, oops, pedals! And these are your words:
I was sitting outside a mini market in the town of "L'Ospitale de L'Infante" in the region of Catalonia, southern Spain, after another "crazy lonely drinking in the sea and laughing alone" moment (beautiful sea for signal), while I devoured my simple "lunch", right there outside on the sidewalk next door, in the best style "I'm a cycle traveler, but I'm clean", and while eating I read the (digital) book by Clóvis de Barros Son titled 'The Life Worth Living'.
I was very intrigued by an excerpt from the book, an excerpt from which made me think again about the trip I had been taking, why it was, sometimes I found myself asking about the reasons, motivations, if it would be useful for something someday, many of these doubts/questions came into my head from the many questions I constantly received from different people when I decided to leave work and routine life in Ireland, to hit the road, on my bike. I myself often asked myself, I questioned myself about a lot of things.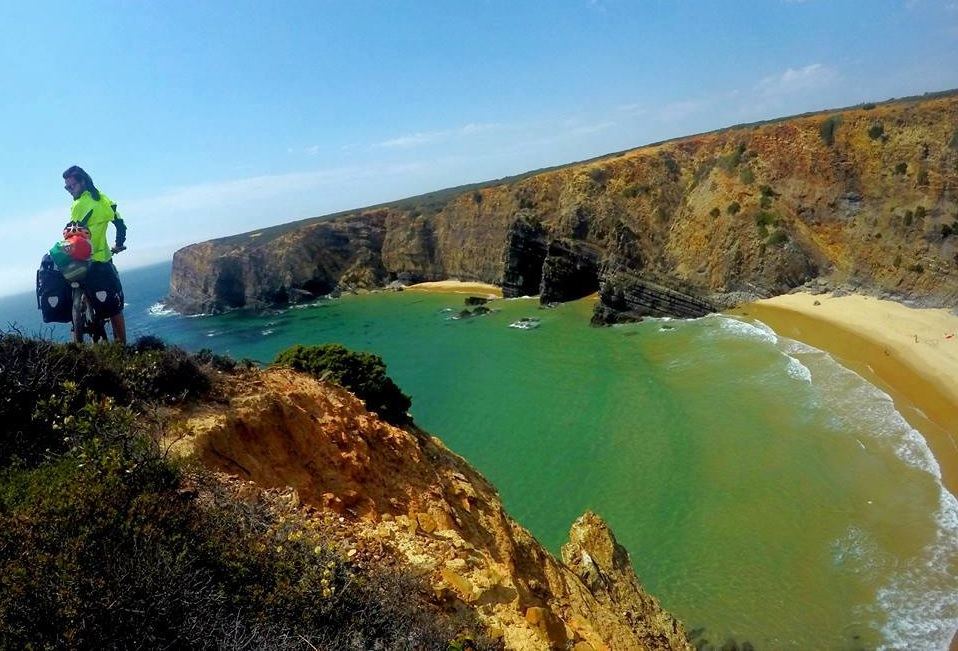 Anyway, what is this trip for? Is there any objective or purpose for this?
The excerpt from the book goes like this:
* (…) Is your class useless? And I proudly say no. The class that is worth by itself is a sovereign class. On the other hand, the one that is useful for something is simply a servile class (…).
Curiously, I tried to transpose this idea to my trip, and I confess that a light went on in my head – You know how in a cartoon?! There were so many questions about the trip imposed by myself and by third parties that after this mental spasm, I decided that this trip I've been doing is worth it in itself, it's sovereign, with bonuses and burdens, ups and downs, and that on the other hand, if it were a business trip or anything like that, would be a servile trip, with departure and arrival dates, with a round-trip ticket, with pre-stipulated script and tasks and pre-established itineraries.
Not that these options don't also have their adventures, but that was definitely not what I had been doing and this reflection helped me to clarify, even a little, the purpose of my cycloadventure, if there was any.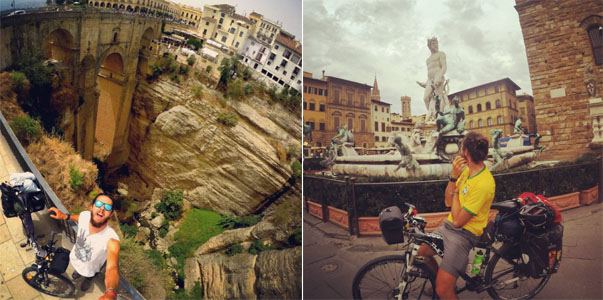 But I just read this and rethink my way of thinking after 3 months on the road and 5300km cycled through 3 countries and countless cities and villages.
Adventure that began in Ireland, more specifically in Dublin, on the 10th of May 2016, after another rainy day, as usual in Ireland, I headed towards the total unknown, with fear and courage and many, many uncertainties, one of which I still carry with me to this day.
Going through moments of extreme happiness and extreme loneliness, often both feelings felt on the same day, at the same time! As in El Chorro, region of Andalusia, southern Spain, a beautiful place between mountains and with an even more beautiful lake, and at the same time I had fun alone, swimming in the lake, exploring the place with and without a bicycle, behold, from I didn't feel lonely, depressed or sad, but something was missing, I missed people, friends, strangers, someone to share that moment, there, in loco, to laugh, complain, or even talk nonsense together, it was strange , that initial power of breaking through such a beautiful place and in such a different way gave way to a feeling of anguish and loneliness. Funny right?
Unlike when I was in France, I enjoyed the company of strangers who offered me a place to sleep through couchsurfing, one was so interested in my trip that 1 month later he would come ride with me for 14 days in Portugal, another already had a place for me to when I pass through the south of France, another in England…
But not everything is flowers (thankfully), in southern Spain I got temperatures of 42 degrees, in a totally desert place! In Cartagena, after cycling more than 100km in that mind-numbing heat, I discovered that there was no place to spend the night, campsites or anything like that, the place was very bad, arid city, there weren't many trees or mountains or any good place to set up camp. It was all visible, I even asked strangers to let me camp in the backyard, whatever, but nothing, the most I received was "look, there's a beach further ahead, you can camp there…um, where is it? It's about 20km from here, what? 20km? In this state I'm in? God!". Moral of the story, I slept in a ravine not far from where I was.
These are things that happen when I choose the sovereign, I let it happen, I plan the moment and not the trip. And as I had this in mind from the beginning, I didn't get too stressed and I always took the situation very well, because I knew it wasn't forever.
Portugal, for the time being, has been the place with the fewest "problems", mostly flat terrain, without rain or intense heat and speaking the same language. Also where I felt more like a tourist than an adventurer, and where I had the company of a French friend I met at the beginning of my trip and who accompanied me cycling from Porto to Lisbon and further south with an Englishman for 4 days, where we saw Portugal win its first Eurocup, lots of partying, and we explored beautiful beaches on the Algarve coast.
Spain has been proving to be the most challenging, both mentally and physically, lots of mountains and hellish heat! But of unique beauty!
In France I cycled from the north, going down the entire west coast to Saint Jean Pied de Port, where I started the French Camino de Santiago and still without going through the south and it was the best prepared country for cycling that I had passed so far.
And of course, apart from the peculiarity of each country, they are very beautiful places with a lot of history to tell.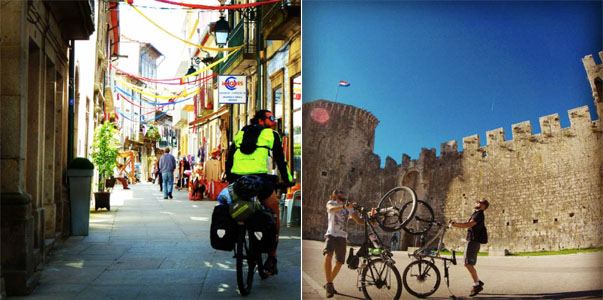 Between wild camps, like at 1300 meters high in the middle of the Pyrenees, or sleeping in a more than 500-year-old monastery along the Camino de Santiago – famous for having hosted great pilgrims throughout history – or even camping on a beautiful deserted beach in Portuguese west coast. And why not take "real" days of rest (a comfortable bed), staying in a hostel like the one in Seville, where I took about 3 days to get to know that beautiful city well!
Who am I today? Maybe it's still too early for this kind of question, but what I've learned since then, not only with this adventure I've been going through and which is still far from an end, but also by many other factors that happened in recent years. How much change I felt in myself, situations such as physical exhaustion and still finding the strength to continue, staying on the street with nowhere to sleep and still being well, calm, having loneliness at my side and knowing how to deal with it without going crazy. – Of course Europe itself helps, as it has a lot of structure and stuff, not everywhere, but still totally possible, but if things like that happened to me years ago anywhere in the world, I would be pissed and stressed out easily. Today I take many of these situations literally, to the point of turning the fuck off and letting it be, a little dangerous, but often useful.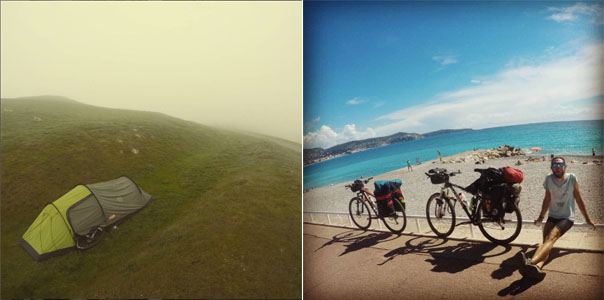 Maybe I owe my self-knowledge to my lonely moments of reflection, these moments made me analyze my limits and options, thinking about "why do I do what I do, why?" What motivates me to wake up at 5:30 am to avoid the terrible heat that it was and even after cycling 100km and almost melting drinking hot water (practically tea) and still having the strength to challenge those mountains and mountains of Spain? It was the belief of my effort, of the perfectability of character, of that neologism that Russeau created, perfectability of character, that I can and must improve myself as a great project and that this makes me freer, that few things free as much as the knowledge and self-knowledge, from the Greek aphorism of "know thyself".
Maybe that's what moves me, this belief in my effort, and only mine, in knowing that for a moment I thought about giving up crossing and climbing the mountain and in another moment I had already crossed. Magic?
Everything starts to make sense since then. New experiences. New encounters. Old encounters. Ever-changing horizons. Bonuses and encumbrances. There is no such thing as always happy life, always happy travel, always happy moments, that's something for cheesy people.
Among these ever-changing horizons, there is, for the most part, a lot of happiness, in different ways and ways and also wonderful experiences, but there is also a lot of loneliness and uncertainties, which help me to grow and know that before me there will always be options and choices to be made, and which ones and how to choose, only the experience will help me, knowing that despite the mistakes, the physical and mental fatigue, I am proud of myself and of what I have already done and gone through, even in moments of loneliness, such as now that I write to you, I feel happy and fulfilled and on the right path to my personal flourishing.
Report: Lucas Tadeu Marcatti.
Follow this trip also on Instagram @lucasmarcatti1881
Photos: Lucas Tadeu Marcai personal collection
» Exotic destinations to visit in Brazil
» Young man travels around Europe spending just 1 euro a day
» Working abroad: improve your CV by visiting new countries
» American travels for 50 years and knows every country in the world
» 25 national parks to relax and enjoy nature in Brazil
Dica extra para reservar hotéis
Para encontrar inúmeras opções de acomodação e reservar hotéis e pousadas com os melhores preços, utilizamos o Booking.com - disponível em milhares de destinos.
Passagens aéreas mais baratas
Para economizar com voos, consultamos primeiro as passagens aéreas na MaxMilhas, - quase sempre encontramos os melhores preços tanto no Brasil quanto no exterior. As passagens podem ser emitidas mesmo para quem não tem milhas aéreas.
Outras dicas úteis
Encontre informações úteis sobre os best destinations do mundo, com guias de viagens especializados sobre diferentes places to visit in Brazil e no exterior. São milhares de travel tips com sugestões de onde ir na sua viagem, recomendação de hotels, notícias atualizadas e muito mais.
Precisa de um carro na sua viagem? Encontre
aluguel de carro na Rentcars
e cote modelos diferentes podendo ser parcelado em até 10x. Já para passeios e ingressos antecipados, fechamos tudo sempre pela
Get Your Guide
.
Deseja falar com a redação, promover a sua marca ou relatar algum erro encontrado nesta página? Envie uma mensagem para
[email protected]
Subscribe to our channel:
---
---