Overflights in Rio de Janeiro and Foz do Iguaçu guarantee good doses of adrenaline and unique landscapes 
Rio de Janeiro and Foz do Iguaçu are beautiful cities that already draw attention for their unique landscapes. So imagine contemplating all these places from the top of a helicopter, with a panoramic view?
This tour option is being increasingly sought after by tourists who seek to include an extra experience in their itineraries, guaranteeing beautiful photographic records and that butterflies in their stomachs.
One of the companies that performs this type of aerial tour is Helisul Air Taxi, specialized in scenic flights for over 45 years and which offers flights over both cities, passing by the main tourist attractions.
The company has an extensive schedule of itineraries, which can take from 6 to 60 minutes in length. For those who want to experience real moments of contemplation and beauty, this is a nice tip to get to know these special cities from a very unusual and exciting angle.
Helicopter overflight in Rio de Janeiro
if the Wonderful city already enchants normally, can you just imagine from above? Rio de Janeiro is perfect for scenic helicopter flights. THE Helisul it has been operating in the city since 1991 and offers eight options, shorter or longer.
There are two boarding points to fly over the Rio de Janeiro, one in Lagoa Rodrigo de Freitas and another of Sugarloaf Mountain (Morro da Urca). The itineraries start with a 5-minute option that includes a view of the Leblon, Arpoador Beach, and Copacabana beach how Sugar Loaf in the background.
In the longer itinerary, of 60 minutes, the tourist can see places like the Botanical Garden, Sambadrome, Guanabara's Bay, Barra da Tijuca, Maracanã and much more, practically a complete view of the city. To know all the itineraries Click here.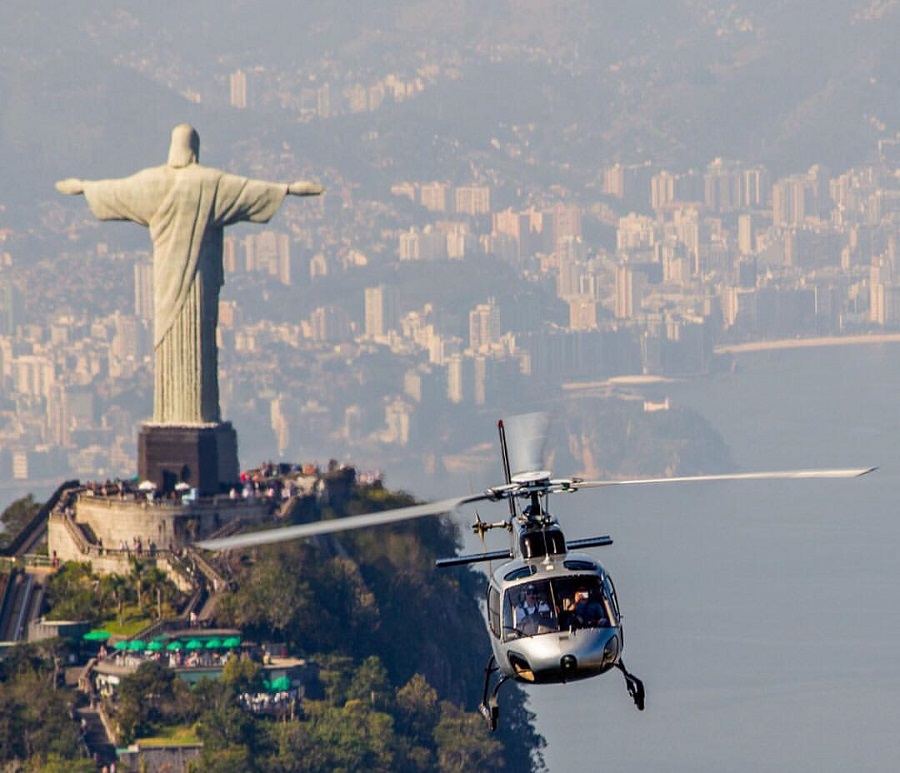 Helicopter overflight in Foz do Iguaçu
The most interesting places in Foz do Iguaçu can be seen from above in a unique and unforgettable experience. 
In the script carried out by Helisul which lasts from 9 to 10 minutes, an exciting flyover is carried out over the imposing falls of the Waterfalls of Iguaçu, enjoying a unique and spectacular view of this wonder of nature.
In the script lasting 30 to 35 minutes, in addition to the overflight of the waterfalls of Iguaçu, the vision still contemplates all the Iguacu National Park, giant Itaipu power plant and also the Three Borders Landmark, located between Brazil, Paraguay and Argentina. Click here to see the full itinerary. 
+ Info
Foz do Iguaçu
(45) 3529-7327
www.helisulfoz.com.br
Rio de Janeiro
(21) 2511-2141
www.helisight.com.br
Read more:
» How to travel to Rio de Janeiro safely?
» Best time to visit Rio de Janeiro
» Wanderlust: some people are born with the travel gene
» Walk in Parque das Aves in Foz do Iguaçu
Dica extra para reservar hotéis
Para encontrar inúmeras opções de acomodação e reservar hotéis e pousadas com os melhores preços, utilizamos o Booking.com - disponível em milhares de destinos.
Passagens aéreas mais baratas
Para economizar com voos, consultamos primeiro as passagens aéreas na MaxMilhas, - quase sempre encontramos os melhores preços tanto no Brasil quanto no exterior. As passagens podem ser emitidas mesmo para quem não tem milhas aéreas.
Outras dicas úteis
Encontre informações úteis sobre os best destinations do mundo, com guias de viagens especializados sobre diferentes places to visit in Brazil e no exterior. São milhares de travel tips com sugestões de onde ir na sua viagem, recomendação de hotels, notícias atualizadas e muito mais.
Precisa de um carro na sua viagem? Encontre
aluguel de carro na Rentcars
e cote modelos diferentes podendo ser parcelado em até 10x. Já para passeios e ingressos antecipados, fechamos tudo sempre pela
Get Your Guide
.
Deseja falar com a redação, promover a sua marca ou relatar algum erro encontrado nesta página? Envie uma mensagem para
[email protected]
Subscribe to our channel:
---
---