The free booklet, produced in partnership with the NGO Think Olga, aims to demystify the woman who travels in her own company, in addition to providing tips and important information
Have you, woman, ever traveled alone or do you want to throw yourself into the world enjoying your own company? In partnership with the women's empowerment NGO Think Olga, the hotel booking platform Booking.com launched today in Sao Paulo, the booklet "Women around the world: a guide to traveling on your own", a material aimed at encouraging women to pack their bags and explore new destinations safely.
With 20 pages decorated with playful and delicate illustrations by the artist Eva Uviedo, the booklet was presented in a chat conducted by journalist and traveler Rosana Jatoba and was attended by Juliana de Faria, founder of Think Olga, and Luiz Cegato, communications manager at Booking.com for Latin America.
The material was produced to encourage more and more women to hit the road and enjoy their own company, presenting strategies to make this journey more pleasant and offering information to deal with insecurities and fears that are sometimes obstacles in the lives of travelers. "We created this guide with the aim of encouraging women to pack their bags and explore new destinations, experiences and, above all, themselves," said Luiz Cegato.
The guide also encourages women to enjoy their own company in nearby locations or for a short time. "This walk of women through the public space alone often awakens this look of stereotype and prejudice, and many women are afraid to face this loneliness", said Juliana. "Enjoying your own company and discovering your own city is already a great journey of self-discovery", he continued.
Other information that can be found in the booklet are practical tips to make the most of the travel experience, connect with people during the experience, face the fear of loneliness and also take precautions regarding the safety of travelers. "The guide does not aim to make women responsible for their own safety, only to point out some suggestions and strengthen women in their travels", explained Juliana.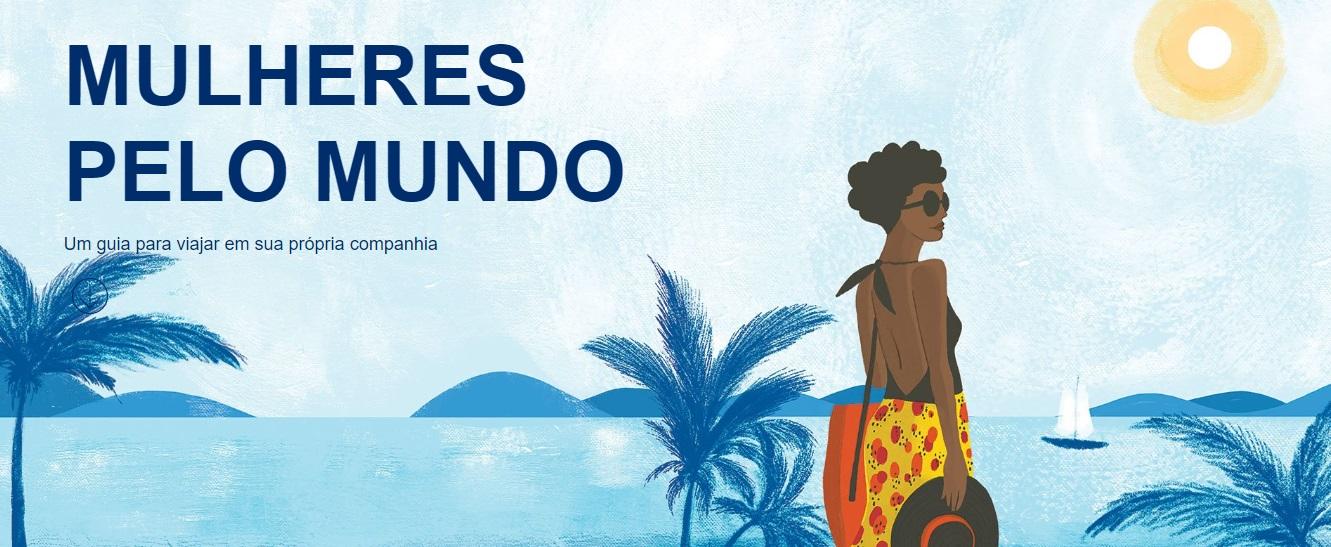 Women traveling alone: adventurous and safe
The idea for the booklet emerged from a research carried out by the Booking in March 2019, where 43% of women stated that they have never traveled alone. The research was conducted not only in the Brazil, but also in Argentina, Colombia and Mexico with more than 4 thousand people – between men and women – over 18 years old who have already made at least two international trips.
According to the survey, travelers from Latin America think that self-travelling women are independent (65%), adventurous (54%), self-assured (51%) and courageous (40%). Brazilian travelers are even more positive in relation to solo travelers, where these numbers rise to 71%, 52%, 53% and 49%, respectively.
However, safety is still a barrier and a concern for women who travel alone. According to the survey, 100% of the interviewees stated that they would travel in all-female groups because they feel they would be safer, especially on evening programs. No accident, Chile, Argentina and Uruguay, considered the safest countries, are the preferred destinations chosen by travelers.
The booklet "Women around the world: a guide to traveling on your own" is free and available for download in three languages: Portuguese, English and Spanish. Anyone interested in the content just access womenpelomundo.com
Read too:
» 8 good reasons to travel alone at least once in your life
» Research shows that traveling alone is good for health
» 11 safe countries to travel alone for the first time
» Brazil: 27 cheap places to travel on holiday
Dica extra para reservar hotéis
Para encontrar inúmeras opções de acomodação e reservar hotéis e pousadas com os melhores preços, utilizamos o Booking.com - disponível em milhares de destinos.
Passagens aéreas mais baratas
Para economizar com voos, consultamos primeiro as passagens aéreas na MaxMilhas, - quase sempre encontramos os melhores preços tanto no Brasil quanto no exterior. As passagens podem ser emitidas mesmo para quem não tem milhas aéreas.
Outras dicas úteis
Encontre informações úteis sobre os best destinations do mundo, com guias de viagens especializados sobre diferentes places to visit in Brazil e no exterior. São milhares de travel tips com sugestões de onde ir na sua viagem, recomendação de hotels, notícias atualizadas e muito mais.
Precisa de um carro na sua viagem? Encontre
aluguel de carro na Rentcars
e cote modelos diferentes podendo ser parcelado em até 10x. Já para passeios e ingressos antecipados, fechamos tudo sempre pela
Get Your Guide
.
Deseja falar com a redação, promover a sua marca ou relatar algum erro encontrado nesta página? Envie uma mensagem para
[email protected]
Subscribe to our channel:
---
---