Traveling is the best with the family is always a delight, but many people still have problems with what to do with their pet during these days, contrary to what many think, taking a long trip with your pet is not an 7 headed beast. In this article we will give you tips on how to get organized and what methods are needed to take your pet on your next trip.
Before the trip, whatever the destination, you should never forget:
– Your little friend's documents;
– Have the animal identified with a microchip;
– Vaccines and preventive treatments up to date;
- Liability insurance;
- Health insurance;
– Contact of the veterinarian;
– First aid kit;
- Toys;
– And of course: leash and muzzle.
Adventure, fun, experiences: if we like good times and adrenaline, our four-legged friends will certainly accompany us. Until when we want to fly!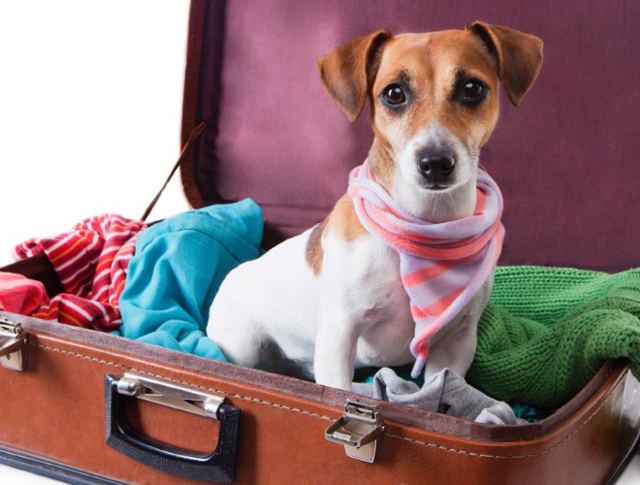 If our vacation starts with a plane trip, our little companions will be ready to come with us. But before making the reservation, ask for any clarifications you deem necessary directly from the airline or through your travel agency. This is because requirements may vary from company to company or because of the animal and destination in question.
Please note that only animals that are at least 8 weeks old can travel by plane. And it is necessary to present properly updated health and rabies vaccine certificates. If your trip is destined for a foreign country, inform yourself in good time about the documents required for entering and leaving that territory.
Having crossed out these first steps from your list, preferably opt for a direct flight, departing in the morning or in the evening.
Your pet must travel in its own carrier. There's nothing like testing it before the trip, so that your dog or cat doesn't find the cubicle where they'll have to stay during the trip, hopefully as quiet as possible.
Purchase a sturdy carrier with enough opening to allow air circulation. Structurally, space should not be lacking. Everything so that your little friend can move freely (or almost): as long as he can sit, lie down and turn from one side to the other, it's already great, guaranteeing a pleasant trip and nothing claustrophobic.
A detail: the carrier should have a waterproof bottom, covered with absorbent material, so he doesn't want to lighten up. The box in which it is transported must necessarily have the following universal inscription: "Live Animals", that is, live animals.
Travel by train or express will certainly be more regular than by plane. Companion animals can travel with their owners as long as hygiene conditions are ensured.
On CP trains, transport for our little friends is free, as long as certain rules are complied with: they have to travel on their own carrier that allows them to be classified as "hand luggage"; and if you want your four-legged friend to enjoy the trip free, you'll have to buy a ticket for the train you're going to travel on. But in this case, a leash and muzzle are mandatory, as are the vaccination record and the municipal license.
Guide or assistance dogs are exempt from ticket purchase. If you have several pets, you will be less lucky, as only one per person is allowed.
Car trips can be a habitué for those animals that accompany their owners from one place to the other daily. And they are usually high moments of our little friends' day.

But if we go on vacation far away, travel can become more boring. Play it safe and schedule the departure for a cooler time of day (morning or late afternoon) and avoid exposing your pet to external stimuli that can cause anxiety and excitement.
If the four-legged friend is not used to taking long journeys by car, it is essential to make at least brief walks before departure. If you are used to riding in a car, it is most likely that you will sleep for most of the journey. But always, always inside boxes suitable for transport, fastened by the seat belt or separated from the driver by a specific device.
Dogs with their heads out of the window: does this image look familiar? Well, yes, it is a frequent scenario in advertisements for families on vacation with animals, but it is not advisable at all. In addition to being dangerous because of possible accidents and lack of visibility so that the handler can pass or return to the right lane safely, it is disadvantageous for the dog itself, as this behavior makes it more vulnerable to otitis, rhinitis and conjunctivitis. .
As with any trip with or without animals, the ideal is to make a stop every 2/3 hours. The dog or cat will thank you, as they have the opportunity to relieve their needs and drink some water; although you should always have water available during the trip if you notice that your partner starts panting.
Our little friends should always make the trip in the back seat. No giving in to tantrums! If it is a large pet, the solution is to transport it in the trunk of the car, but for this it is advisable to have a family van, a jeep or a minivan.
Even in the trunk of the car, probably better for large dogs, ideally traveling in larger carriers. Do not forget that there are devices for the trunk that make it open, leaving space for air to enter, although the trunk is effectively locked and allows for a safe journey.
The alternatives do not stop here: there is still the trailer. This is another option that also ensures the well-being of the animal. The important thing is that it has a non-slip floor, is well ventilated and thermally insulated to provide a pleasant and safe journey.
Sickness: how to solve the problem?
Just like people, there are also dogs and cats that get motion sickness. The best thing is to get our pets used to traveling by car from an early age, in order to avoid unnecessary motion sickness that could compromise their arrival at the destination on time.
The animal should not associate the car trip with a nightmare, but with something fun, like a walk to the beach or a good dose of food.
In any case, to avoid nausea, ideally, your little friend should travel on an empty stomach. For this, it is advisable to give him a well-balanced meal the night before and start the trip very early. Upon arrival, a light meal and a little water will restore you in no time!
Read too:
Cliché trips to do before you die
Porto de Galinhas, natural paradise in Pernambuco
Vacations in Amazonas: options for tours in Manaus and region
5 Brazilian destinations for waterfall lovers
Discover the most beautiful beaches in the Northeast
Subscribe to our channel:
---
---
Do you want to speak to the newsroom or report any errors found on this page? Send a message to
[email protected]