In a new advance published today, the government of SP presents an advance in the vaccine calendar aimed at all people aged 18 to 59
In a public presentation made this Sunday (13), the government of São Paulo informs another anticipation in the vaccination calendar of the State. In a statement made by the governor of SP, João Doria (PSDB), the target indicated in the new calendar promises to have, by September 15 of this year, all adults in the state of SP vaccinated, including those who do not have comorbidities. 
In this new anticipation, which covers and includes most of the residents of the State of SP, the vaccine effort has advanced the calendar by more than a month, mainly impacting people between 50 and 59 years old, who will be vaccinated in the coming days, with the distributions made by June 22.
In his social network, the governor of the State of São Paulo celebrated: "We anticipate vaccination in SP. By September 15, every population over 18 years of age will have received the 1st dose of the vaccine. Planning, work and sense of urgency."
Get your arm ready 💪🏻

We anticipate vaccination in SP. By September 15, every population over 18 years of age will have received the 1st dose of the vaccine.

Planning, work and sense of urgency. Live the life! 💉💉💉

— João Doria (@jdoriajr) June 13, 2021
Another anticipation of vaccines
The agenda had already been brought forward about a week ago, guaranteeing the first dose of the vaccine for the entire population over 18 years old by October 31. In the new deadline published this Sunday, the updated goal is to vaccinate all adults by September 15th. 
In the new statement, the governor says that millions of people who meet this age group and live in the most populous state in Brazil will have received at least their first dose before the end of the year. 
Due to the number of concentrated inhabitants and also due to their economic importance, health agencies decide to prioritize large urban centers as a way to reduce the increase in contagion and the direct and indirect damage caused by the pandemic. 
The beneficiary population that is between 18 and 59 years old and resides in the State of SP, needs to check the new vaccine distribution schedule:
See what the new SP vaccination schedule will look like
People between 50 and 59 years of age: from June 16 to 22; 

People between 43 and 49 years of age: from June 23 to 29; 

People between 40 and 42 years of age: June 30 to July 14; 

People in the 35-39 age group: July 15th to July 29th; 

People between 30 and 34 years of age: from July 30 to August 15; 

People between 25 and 29 years of age: from 16 to 31 August; 

People between 18 and 24 years of age: from 1st to 15th of September;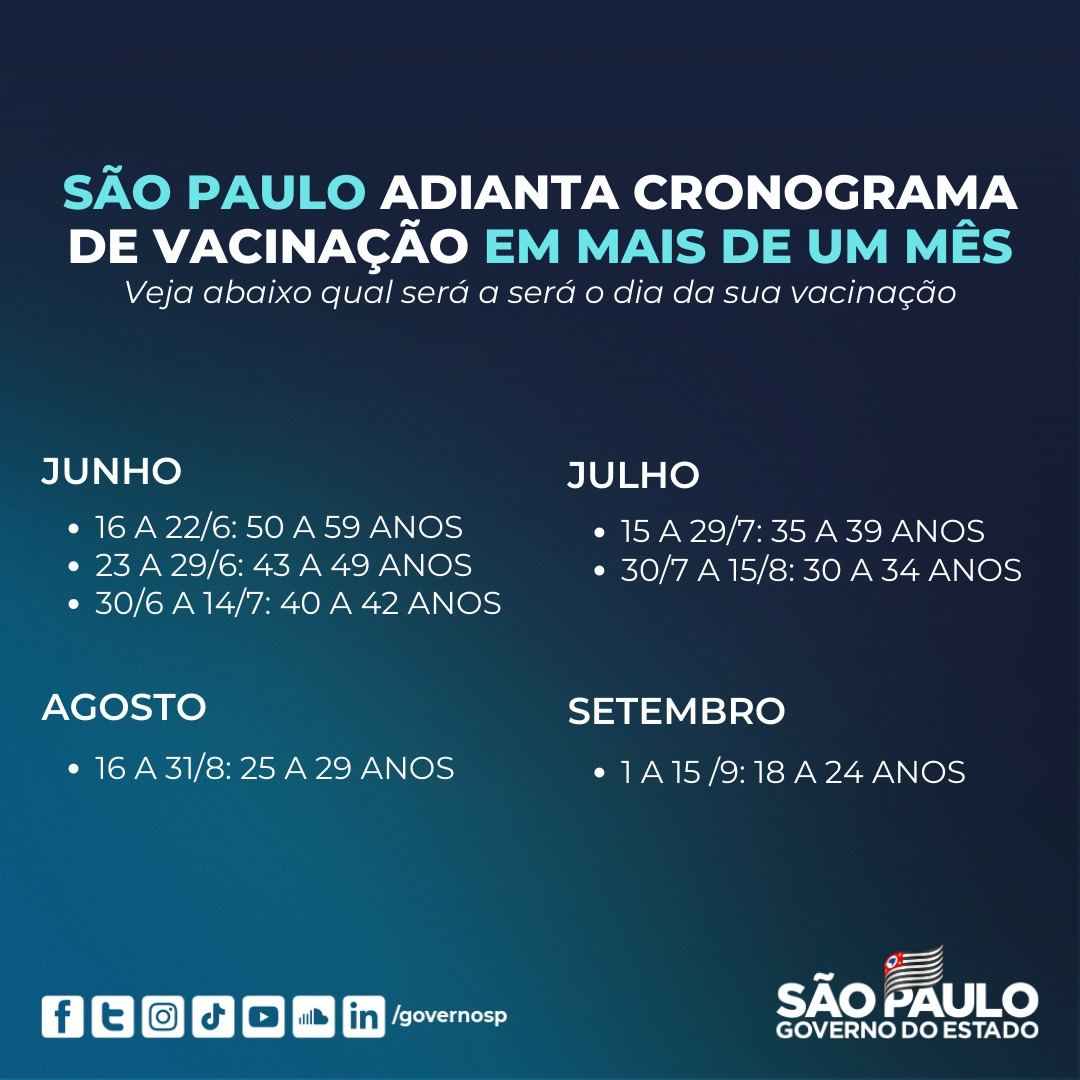 How do I get vaccinated in SP?
Make your registration through the official website of the State Government of SP, created for vaccination: https://vacinaja.sp.gov.br/. 
More optimistic travel market for the end of the year
In addition to the relief to see the advance of the vaccine working in different destinations in the world as New York and countries in Europe, with an apparently closer projection of the future, today's news also brings more hope and optimism to travelers who have had their dreams postponed for more than a year. 
The great expectations generated by the increase in people vaccinated in Brazil also show that there will be an already imagined traction, at the moment of resumption of travel. Following the capitals' calendar, a good part of the Brazilian population will be vaccinated this year, bringing more security to book end-of-the-year and New Year's Eve trips.
Dica extra para reservar hotéis
Para encontrar inúmeras opções de acomodação e reservar hotéis e pousadas com os melhores preços, utilizamos o Booking.com - disponível em milhares de destinos.
Passagens aéreas mais baratas
Para economizar com voos, consultamos primeiro as passagens aéreas na MaxMilhas, - quase sempre encontramos os melhores preços tanto no Brasil quanto no exterior. As passagens podem ser emitidas mesmo para quem não tem milhas aéreas.
Outras dicas úteis
Encontre informações úteis sobre os best destinations do mundo, com guias de viagens especializados sobre diferentes places to visit in Brazil e no exterior. São milhares de travel tips com sugestões de onde ir na sua viagem, recomendação de hotels, notícias atualizadas e muito mais.
Precisa de um carro na sua viagem? Encontre
aluguel de carro na Rentcars
e cote modelos diferentes podendo ser parcelado em até 10x. Já para passeios e ingressos antecipados, fechamos tudo sempre pela
Get Your Guide
.
Deseja falar com a redação, promover a sua marca ou relatar algum erro encontrado nesta página? Envie uma mensagem para
[email protected]
Subscribe to our channel:
---
---