Want to know which are the best tours in Chapada dos Guimarães? If you are planning to travel there, you need to check out our tips on the 16 must-see attractions of the destination.
There are many tours in Chapada dos Guimarães waiting for you. This region of Mato Grosso, in the middle of the Brazilian savannah, has impressive scenarios that deserve to be known. With that in mind, we prepared this list with 16 must-see attractions destination to convince you to include it in your travel plans.
If you love ecotourism or are looking for more contact with nature, this is the ideal place to visit. there is a lot what to see and do in Chapada dos Guimarães. There you will find trails that lead to rocky walls, valleys, waterfalls and caves. You can also cool off and dive in crystal clear waters, in addition to contemplating beautiful landscapes in its various viewpoints.
Want to know more? So, continue reading this special post and find out what the best tours in Chapada dos Guimarães. 
Unmissable attractions in Chapada dos Guimarães
Ideal destination for ecotourism lovers, the Chapada dos Guimaraes It has stunning scenery that makes for incredible rides. See below what are the must-see attractions in this region of Mato Grosso.
blue Lagoon
The trail that leads to the beautiful Blue Lagoon is one of the main walks in Chapada dos Guimarães. It crosses the grandiose Aroe Jari Cave and reveals the lagoon of crystalline waters, illuminated by beams of light. A stunning setting that makes for great photos. 
Green field
The Campo Verde Circuit, also known as the Águas do Cerrado Circuit, is another super interesting tour to do. In addition to passing through several waterfalls and caves, this route reveals impressive archaeological sites. It starts at Poço do Amor and passes through eight more waterfalls.
Chapada dos Guimaraes National Park
THE Chapada dos Guimaraes National Park It is an environmental protection reserve, created in 1989, covering an area of over 330 square kilometers. It has dozens of waterfalls, several viewpoints, impressive rock formations, cave paintings and trails surrounded by greenery.
Waterfall of the Swallows
considered one of the most beautiful waterfalls in Chapada dos Guimarães, the Andorinhas Waterfall is about 30 meters high. It can be known from the Circuito das Cachoeiras, which runs through six waterfalls in 7 km of moderate trail.
rooster crest
From the top of Morro Crista de Galo it is possible to have a panoramic view of Chapada dos Guimarães and its walls. To get there, just follow a gentle slope trail for 10 minutes. The place gets its name because of the rock formation that resembles a rooster's comb.
valentine's waterfall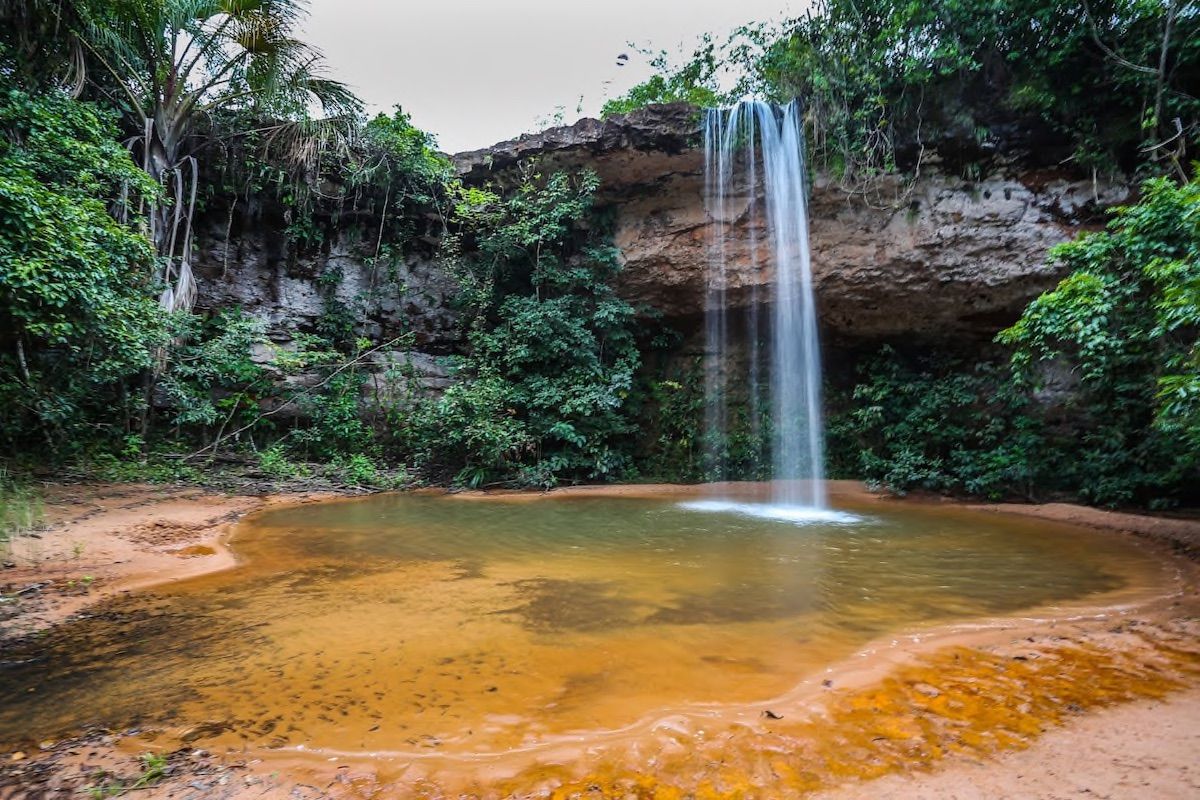 The Valentine Waterfall is one of the unmissable attractions of Chapada dos Guimarães. In addition to its beauty and great pool for bathing, it can be visited together with another waterfall that is just 200 meters away, Cachoeirinha. And the best part: they are easily accessible and can be visited without a guide.
stone city
Cidade de Pedra is part of two tours in Chapada dos Guimarães: the trail to Morro de São Jerônimo and the Circuito das Cachoeiras. The site resembles a medieval city made of reddish rock formations, which suffered from the action of wind and rain. Some monumental cliffs reach more than 350 meters in height.
hill of the winds
Located 1 km from the city center, Morro dos Ventos is 800 meters high and has a viewpoint that reveals an incredible view of the rocky walls. To get to the viewpoint, you have to enter a private condominium, with paid access. The place has a restaurant that offers typical dishes of the region.
Wedding Veil Waterfall
A postcard of Chapada dos Guimarães, the Véu de Noiva Waterfall can be visited from the main entrance to the park. The imposing waterfall of 86 meters in height is in the middle of a rocky wall and can be contemplated from a viewpoint. 
San Jeronimo Hill
Morro São Jerônimo is one of the highest points in the Chapada dos Guimarães National Park. From the top of its 836 meters of altitude, it is possible to have a panoramic view of the region. However, to reach the top, you need good physical conditioning and a lot of breath: the journey alone takes five hours of walking, accompanied by a guide.
Rio Claro Valley
Vale do Rio Claro has preserved vegetation amid rock formations and natural pools that make it a refuge for those who want to immerse themselves in nature. It houses the Crista de Galo hill and the beautiful Poço da Anta and Poço Verde, great for bathing and floating.
Kiogo Brado Cave
The Kiogo Brado Cave impresses right away: its entrance is 30 meters high. Inside, there is a watercourse that follows a natural duct for 273 meters, until the exit. At the end of the route, the visitor is presented with a wide view of the interior of the cave.
Viewpoint of the Geodesic Center
A mandatory stop when visiting Chapada dos Guimarães, the Mirante do Geodetic Center it is at the center of South America – 1,600 km from the Pacific Ocean and the Atlantic Ocean. The viewpoint is 845 meters high and offers an incredible view of the region – with any luck, on clear days, you can even see the city of Cuiabá, which is 30 kilometers away.
Santana's Church
The Church of Santana is in the center of the municipality of Chapada dos Guimarães and its square is a meeting point for those visiting the region. The beautiful baroque church was built in the 17th century. In its square, the fair of local products is held.
bird watching
Cradle of several species, Chapada dos Guimarães is a great place to go bird watching. Among the best spots for the practice are Vale da Benção, the Salgadeira River and the roads that lead to Aldeia Velha and Mirante Geodesico. Get ready to see scarlet macaws, ben-te-vis, toucans and other animals.
Subscribe to our channel:
---
---
Do you want to speak to the newsroom or report any errors found on this page? Send a message to
[email protected]