Beaches, culture and paradisiacal scenery are what a trip to Natal reserves. Discover the main attractions of the region and enjoy this paradise in the Brazilian Northeast 
oh, Christmas… that place that leaves everyone in love, at first sight. capital of large northern river, at the Brazilian northeasto, is a city that brings together many beaches, natural beauties, culture and party! That's where big events take place, like 
the International Handicraft Fair (FIART), Carnatal, the famous June parties, Christmas celebrations, always watered with lots of animation and heat. So if you like this climate, prepare the road map and select the tourist attractions that are most relevant to your vacation. Check out this super complete list! 
21 tours in Natal that are worth doing during your trip
Ponta Negra beach 
Located in the most touristy neighborhood of Natal, Praia de Ponta Negra, is that place where you will find a lot of action, with bars and restaurants by the sea. It is one of the main postcards of the city. 
Morro do Careca 
Another point that cannot be left out on your first trip to Natal is Morro do Careca, a dune located on Ponta Negra Beach. It draws attention because it is more than 100 meters high, which can be seen in various parts of the city. 
Dunas de Natal State Park 
Trails and lots of contact with nature, that's what you'll find when visiting the Dunas de Natal State Park, the first Conservation Unit in the state. It also offers some outdoor activities such as tree climbing, zip lining and picnic areas. 
Reis Magos Fort
The Forte dos Reis Magos was the first construction in the city, and is located on the banks of the Potengi River, its function was to protect the territory from foreign invasions. Recommended for those who know a little more about the history of the region, and of course, take advantage of the view to take some pictures. 
Genipabu beach
Very common on the route buggy rides, the beach of Genipabu it is a true paradise in the middle of the dunes. It is the perfect place to relax and dive into a calm sea with crystal clear waters. 
Artists Beach
Another option for a walk in the center, Praia dos Artistas, is an option for those looking for a less crowded place. In it you will find several natural pools made up of coral reefs and a good structure with tents. And the best, with very affordable prices. 
Newton Navarro Bridge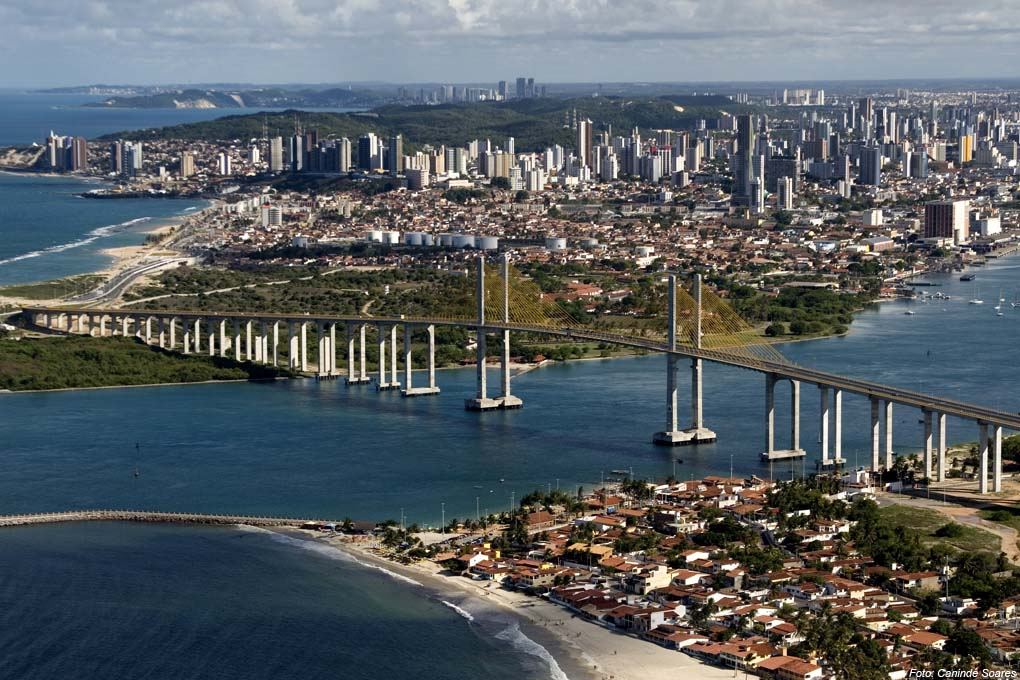 Photo: Disclosure
A relatively new attraction in the city, the Newton Navarro Bridge was built in 2007 to connect the north with the east of the capital and became a tourist spot due to its grandeur, beauty and view it provides. 
Pitangui Lagoon
A little far from Natal, 25 km away, is the Lagoa de Pitangui, perfect for those looking for a refreshing bath in fresh water. The place is super suitable for spending the day at a very leisurely pace. 
Areia Preta beach 
Despite its dark sands, the main attraction of Praia de Areia Preta is the sign written Natal, much sought after by tourists who want to take pictures to register their visit to the city. 
Genipabu Lagoon
Visiting Genipabu and its lagoons is one of the most famous programs on a trip to Natal. Usually tourists go to the place by buggy to see the dunes, which are incredible and make up a scenario that looks more like an oasis. 
Câmara Cascudo Museum – UFRN
If you want to know more about art and culture, the Camera Cascudo Museum is a must! It gathers thousands of pieces such as fossils, even dinosaurs and works of art. It is a great source of knowledge. 
Children's City 
Darling among the little ones, Cidade da Criança offers several fun attractions for those traveling with their families. It is a park that brings together zoo. playground, jogging track, ATV ride, pedal boat and much more. 
Shopping do Artesanato Potiguar
The temptation for those who like to do some shopping, the Shopping do Artesanato Potiguar, brings together several stores that offer local items and souvenirs to make the trip even more unforgettable. 
Cotovelo Beach
An alternative for those who do not want to leave the center, but are looking for a quiet place to relax, Praia do Cotovelo offers a stunning view, surrounded by tents to enjoy the delights of the region. 
christmas aquarium
The Natal Aquarium is a perfect trip to take as a family to learn more about marine life and other animals, as it is possible to find penguins, sharks, macaws and even ocelots. It attracts visitors from all over the world. 
Biggest cashew tree in the world
One of the most beautiful spots to visit in Natal is the largest cashew tree in the world, located on Praia de Pirangi. It's even in the Guinness Book of Records, because it's really gigantic. To give you an idea, it has 8,500 m² of canopy and produces an average of 70,000 fruits per harvest, the equivalent of more than 2 and a half tons of cashew. 
Liquorice Lagoon 
If you have the time and desire to take a dip in fresh, crystalline waters, be sure to visit Lagoa de Alcaçuz, which is located in the city of Nísia Floresta, 45 km from the capital. It is a peaceful environment, which still offers options for sports and trails. 
Dom Nivaldo Monte City Park
Designed by architect Oscar Niemeyer, Parque da Cidade Dom Nivaldo Monte is very popular with those who want to exercise outdoors, or even want to have a moment of contact with nature through trails. 
Maracajaú Natural Pools
Despite being 65km away from the capital, the Maracajaú Natural Pools are one of the highlights of the trip. It is perfect for nature and marine life lovers, as the transparent waters are perfect for snorkeling. 
Back in Pipa
Another popular tour is a day trip to Pipa, a very charming village located just 85 km from the capital. The beaches, buggy rides and contact with a super preserved nature fill the eyes of any tourist. 
Round trip in São Miguel do Gostoso 
São Miguel do Gostoso is a very simple town, 100 km from Natal, which is a haven of tranquility. It is a full plate for those who like paradisiacal beaches, almost deserted and composed of dunes that make the scenery even more special. 
Subscribe to our channel:
---
---
Do you want to speak to the newsroom or report any errors found on this page? Send a message to
[email protected]